We always love to do an excellent job, whether it's catering for an individual, a group of people or a business, for a party or an event, but it's especially soul-warming to help a charity celebrate an occasion. Our team just spent a great day helping a charity honour a milestone event, as they have been helping their community for 25 years now.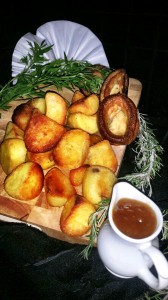 To commemorate the special anniversary, event organiser Ginny asked us to cook a winter warmer hog roast Frogham meal for employees, volunteers and guests at their headquarters. Now we know it's not quite winter yet, but you can enjoy a winter warmer menu of ours from autumn onwards, and it includes food to warm your cockles on even the coldest day. For these festivities, we would be cooking trays of seasonal vegetables to serve alongside the meat and crackling. You can choose just about any veg that you like, as long as it's available, and Ginny requested sweet potatoes, yorkshire puddings, parsnips, and sweet peppers, to be drizzled in honey and roasted underneath the hog.
Earlier today, I set off with another chef in the chilly autumn air and we arrived at the venue ready and able to prepare and then slow-roast the hog for several long hours. The rest of the team would arrive later to help with the rest of the preparations and service. There were around 100 guests expected, so we had a huge beast to cook, and there would be enough meat for everyone to enjoy seconds or more (as is often the case with our hog roast Frogham, one trip to the serving station is never quite enough!)
Later in the day, Ginny and her helpers set about decorating the premises and it was soon time for us to start preparing and roasting the vegetables. Time flew by as we chatted to many of the guests and before we knew it, we needed to set up the serving station with the sauces and stuffing. Making the final checks on the hog, we could see it had cooked perfectly and it just needed to rest in its own juices a little while and then we could satisfy the hunger of many.