Welcome to hog roast machine hire Hampshire. Based in Hayling Island, Chichester and Waterlooville, we are an event catering company specialising in spit roasting and hog roast machine hire. catering company specialising in spit roasting and hog roast machine hire. ng and hog roast machine hire. Are you throwing a party this year? Perhaps it is your birthday soon, or the birthday of one of your friends or family. If so, there's no better way to enjoy your party than with a hog roast. A hog roast is a great way to entertain your guests. If you have never experienced a pig roast before, then you're in for a treat. There is nothing more theatrical at a party than seeing a fully cooked pig spinning on a pole right before your eyes. One of the great benefits of having a hog roast at your party is that it is a cheap and convenient way to feed a high proportion of guests. Using just one 50kg pig, we can cater for 160-200 people. There aren't many more ways to feed that many people so easily.
Perfect For Any Celebration
The hog roast catering experience is one not to be missed. The smells and aromas produced by the hog roast will have you and your guests salivating. When the roasted hog is wheeled out in front of you and your guests, you will notice how well cooked it is, and it will make for the perfect centrepiece at your event. When you hire out one of our machines, you know you are getting quality. All of our machines have been thoroughly and rigorously tested to the highest standards of health and safety; proven by the fact that all our machines are CE marked products, meaning our appliances conform with the essential requirements of the European Conformity directives. If you have never used a hog roast machine before, you needn't worry. Even the most novice of chefs can operate them with the utmost ease. This is because our machines are fully adaptable, and are capable of cooking a wide variety of things in many different ways. Perhaps it is the birthday of your young son or daughter, and all their school friends are coming over. You're going to want to provide them with their favourite food, which to most children is burgers and hot dogs. Our hog roast machines can be transformed into your standard barbecue allowing for this.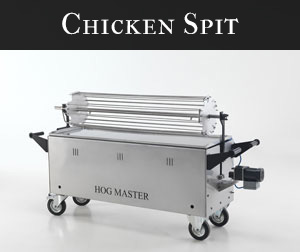 If you don't want to fuss around spit roasting a pig on a pole, our hog roast machines can be transformed into a simple oven, meaning all you have to do is merely place the pig onto a tray and slide it in, and then let the heat do the rest. It really is that simple. Furthermore, our machines can cook a variety of different meats, not just hogs. With the attachments we provide, you can use our machines to cook up to 35 chickens, strip loins or beef joints, giving you a fantastic variety of things to eat. You can quite literally cook anything you like. As well as being adaptable, our machines are also portable. If you're planning a party outside to make the most of the remainder of the good weather in Hampshire, then you will be pleased to know that our machines don't require electricity. We provide the gas and if necessary you can also purchase more gas from us too.