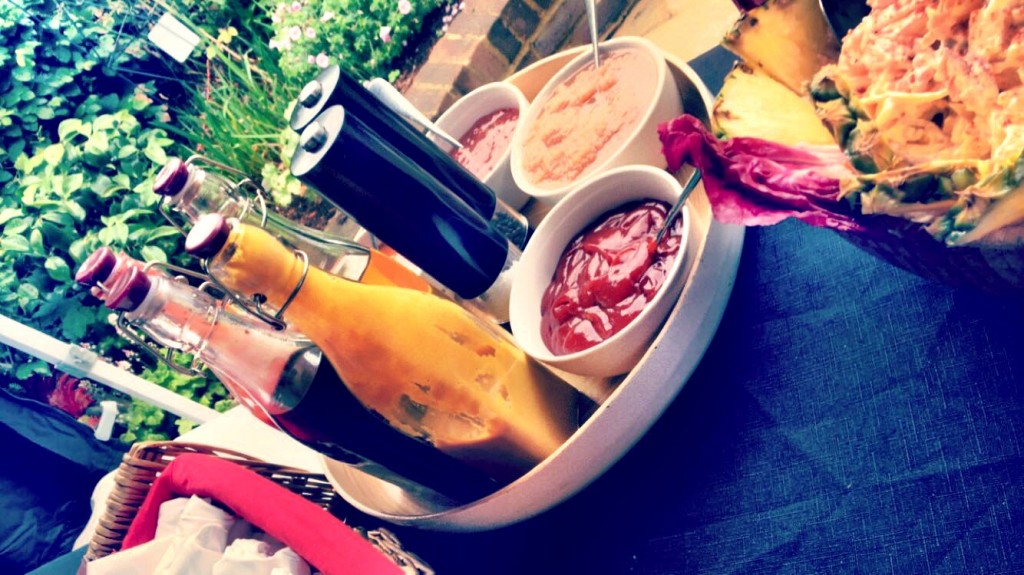 Welcome to the catering section of our website here you find a large selection of different menus that have been specially design by the team here at Spitting Pig Hampshire we have grouped the menus into 3 categories. Just click on one of the links above and take look through the different menus on offer, also don't forgot to take a look at our special offers sections as we regularly add new menus here to suit the time of year, there are fantastic and unique summer options during June, July or August and we also add some real traditional menus during Christmas and our spit roasted turkeys are always a favourite among our customers.
Spitting Pig Hampshire know how important it is to our customers to be able to trust our work and we also understand that with so many part time caterers and hog roasters available in Hampshire it can be difficult to choose the one that will create the perfect menu for your events and will leave your guests speechless. As the industry leader in hog roast catering and as part of the largest hog roast company in the UK we are confident we have the experience, ability and support to offer a superior service than that of our competitors. By sticking to our core values and by going the extra mile we can a culinary experience that can't be matched.
The Spitting Pig Beliefs
Listed below are some of our core value that we believe have been vital to our success and are issue that we stick to ensure each and every one of our customers enjoys a fantastic meal curtsey of us.
Traditional – Fresh – Professional
We ensure we are available to talk whether it's just to make an enquiry, to ask some questions about your event or to book with us.
We always turn up to every event prepared this included fully customised catering vans for the large events and state of the art hog roast equipment to produce perfect results every time.
We also ensure that we stick to the great traditional cooking that made us so popular initially. We use tried and tested recipes and ensure that all our food uses only finest local ingredient and is prepared before your very eyes on site
We also prepare for any eventuality bringing our own protective covers so no matter what the weather you can rest assured that your hog roast will be a success.
Finally we guarantee satisfaction, so if you're thinking about a hog roast for your birthday, summer barbecue, staff party or wedding then the professionals are only a phone call away.
[peekaboo]
[peekaboo_content]
Your Unique Special Day
So, you have got down on one knee with butterflies in your stomach and asked the question. To your delight, she said yes. Congratulations! Though true as it may be that this is one of the happiest times of your life, as you may well be aware, planning a party for some 300+ guests can take away from the shine of the occasion. Planning a gathering for any event is stressful enough, but a wedding? Unlike planning for a more casual gathering, this has to be completely right, without even the slightest hitch. With your proud parents and friends looking on, the last thing you want is a catering mishap to spoil your big day. That's where we come in. If you're getting married in Hampshire this year, be it Basingstoke, Southampton or Winchester, we can help alleviate some of that stress.
We want your big day to go as perfectly just as you do, and that's why you should choose us as your caterers. We understand the importance of a wedding ceremony, and the celebrations which follow. A wedding ceremony is one of the most specialist occasions you can imagine and as such, we also realise the amount of planning that goes in to such an occasion. In that, we share your passion. As you prepare for your big day, the only thing you should be worrying about is making it up the aisle as gracefully as possible. You can rest assured that we will take care of your reception in the meantime.
As our catering staff also provides you and your guests with a wide variety of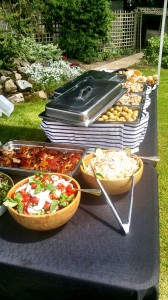 accompaniments to go with the hog roast, such as roasted vegetables, you can be sure that there will be more than enough food to go around. All you have to worry about is keeping that lovely white dress free from gravy stains!
A hog roast is any event whereby a pig is either roasted in a hog roast machine, not too dissimilar to a large oven, or roasted whilst skewered on a metal pole. The latter of these processes is known as spit-roasting, and is not to be confused with hog roasting. The pig, which is always reared and sourced from a local farm, is roasted in its entirety, from snout to tail. We take a great deal of care in ensuring that the pork is prepared to the highest of standards. As all of our pork is 100% British, you know you're getting a good meal.
Furthermore, when using our hog roast machines, we ensure that all of our machines are CE marked, guaranteeing you the very highest in standards. Our machines are portable with removable legs, meaning they can be used in any given venue. As our machines don't require electricity, you can also enjoy your hog roast outside if you wish. They can be used practically anywhere with the utmost of ease. Why is hog roast catering so convenient for wedding receptions? Our hog roast machines are unique in that they can cook a meal for up to 400 guests using just one machine. As wedding receptions are likely to involve a great number of hungry guests, this is why hog roast catering is such a perfect and convenient way to enjoy a delicious meal with your nearest and dearest.
At hog roast catering Hampshire, we will do everything for you. We realise that planning a large gathering or event can be a sometimes daunting and stressful time, particularly when it comes to planning a wedding and reception! With us though, you can get ready for your big day and sort out all the necessary preparations whilst we do all the hard work preparing for your reception. We provide you with the hog, the hog roasting machine, the chef, heck; we will even throw in the cutlery too! You can also hire from us a marquee to give your occasion that really classy touch, particularly useful if you were planning an outdoor gathering. It is of paramount importance to us that, as our valued customers, you enjoy a stress free and enjoyable experience and it is of equal importance that when planning a wedding, you are not over-awed by the occasion.
Let us take care of your reception, if you call us today, we will provide you with a wedding information pack with details on our chefs, so you know what to expect. We can even offer you a tasting session and provide you with complete flexibility with your menus – this is your big day after all. You can try each and every one of your dishes to be prepared on the day for your complete satisfaction. Want to find out more? Call us today.
[/peekaboo_content]