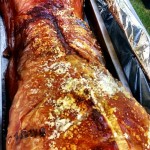 Welcome to Hog Roast Catering Hampshire. We are an event catering company specialising in hog roast catering based in Andover and Fareham.
Are you planning a celebration this year? The chances are you will be. Perhaps it is the birthday of one of your friends or family soon, or even your own. Maybe you're planning a church fete, or you might even be getting married and in need of a good reception meal or it could just be that you are preparing for that Christmas meal early for you and all your family.
Whatever the occasion, your party starts with us. All it takes is one phone call. We can provide up to six private party menus, five hospitality menus and five wedding menus, so whatever the occasion, you know booking with us is a good idea. You can also send any enquiries by filling out our online form specifying your name, phone number, email and preferred menu.
Getting married this winter? In need of a reception meal? Look no further. If you contact us today, we will provide you with a wedding information pack with all the details of our chefs, so that you can personally discuss and tailor your reception meal. You can even arrange a hog roast tasting session at our premises in Hampshire so that you know that your reception meal is going to be perfect. We can even arrange for you to attend a wedding prior to your big day so that you can watch us work in person!
All it takes is one phone call.
If you would like to hire out a hog roast machine for your party, call us on the above number or email our sales team at [email protected]
Once you have booked with us, the contact doesn't stop there. We realise that all good products come with an instruction manual, so when you hire a hog roast machine with us, we will provide you with an instructional DVD guiding you on how to assemble our hog roast machines in under ten minutes – it will even give you advice on how to get the most of your machine by utilising the varying attachments to transform it from a simple oven to a barbecue in no time at all, and it will give you advice on how to cook different meats. What more would you need!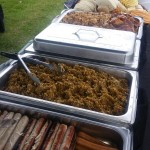 • All of our meat is locally reared and sourced in Hampshire, so you know you're getting the best of British.
• Our caterers do all the hard work for you.
• We can serve two hundred people with one pig.
• We drop the machine off at your address and collect when convenient for you, anywhere in the UK, from Hampshire to Hartlepool.
So, whether you're planning a birthday, wedding reception, a corporate do, feat, or any other variety of celebration where large numbers of guests are attending, book with us now!