The Southampton Hog Roast Catering Company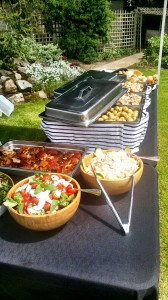 Welcome to Spitting Pig Hampshire, the leading Hog Roast catering company who are ready and waiting to cater for your guests at your next celebration! We have been established locally for over a decade now and are experts in our field. A Hog Roast goes down fantastically at any kind of event or celebration and is winning choice amongst all the guests. As soon as you take a bite from of one of our famous rolls it's soon a taste sensation that you won't have experienced before!
Once you've had your first Hog Roast Hampshire experience it's easy to understand why our customers come back to us again and again.
A Developed, Successful Business
My name is Richard Leaning founder and owner of Spitting Pig Hampshire which is a proud member of the Spitting Pig group. Spitting Pig Hampshire began over 10 years ago and had humble beginnings my father at the time had an old hog roast machine in our garden and he was an expert at cooking with it. He would use the traditional methods and roast the pig over charcoal whilst turning the pig by hand. The meat was so tender and juicy at every party we had all of our guests would comment on how beautifully tasty the pork was. I was always mesmerised at the care and attention my dad gave to preparing the meal it was often the highlight of the summer when we pulled out the old machine from the garden shed and he would spend hours preparing and slowly cooking the meat. My father over the years passed on his wisdom to me and by it wasn't before long that we cooked for our summer parties together.
We always had requests from family friends to borrow our machine but no one seemed to be able to replicate our result. It was at this point that I suggested to my father that we may have something to offer the people of Bishop's Waltham, so I placed a few small adverts in the local butchers where we sourced our pigs and let out the word that Leaning and Sons where offering the best in traditional quality hog roasts for any event. The response was literally overwhelming and we soon found our entire summer fully booked, at what started out as a hobby had suddenly grown into a nice season business. We continued like this a for several years working locally relying on limited advertising and word of mouth to fill up our summer and we continued to have success.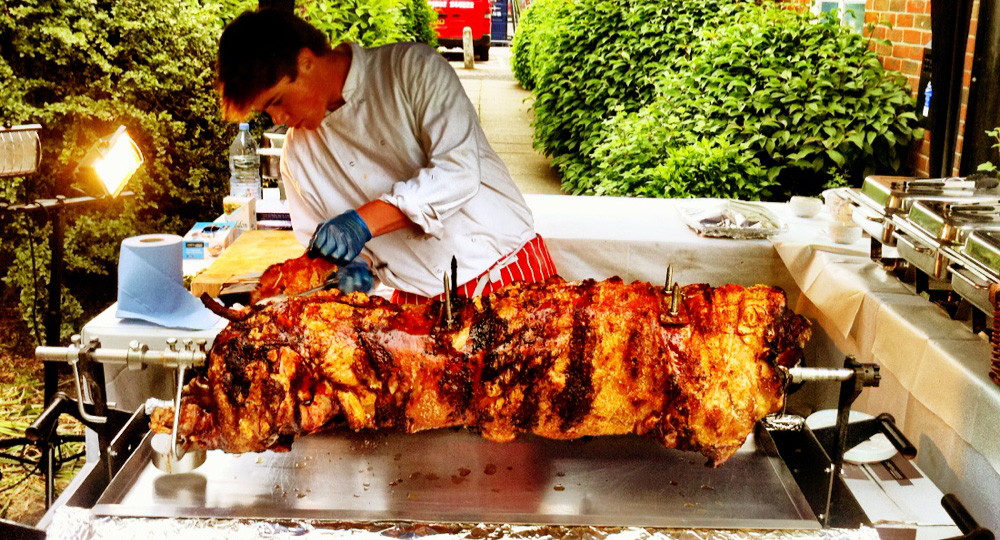 Every year we found ourselves turning down so much work and I had big ambitions for Leaning and Sons and was yearning to scale up the business. However my father not been the young man he once had earned his retirement twice over and decided to leave the business in my sole owner ship, also in the same year our old faithful hog roaster also decided to retire to the sun. I needed to find a new reliable and easy to use machine so I could transform my business into the catering operation i knew it deserved. That when I found the Spitting Pig company with some expert guidance from Stephen and the team I was soon equipped with the best Hog Roast Hampshire equipment money could buy. After a hugely successful summer I was invited to join the Spitting Pig group and jumped at the chance. We are now in our 8th year as a member of Spitting Pig and now run four different catering teams and work at large and small event right across the county.
Indulge Over Unforgettable Flavours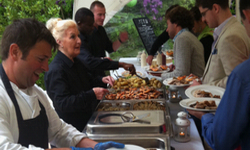 Welcome to hog roast catering in Hampshire. Based in Portsmouth and Gosport, we are an event catering company specialising in hog roasting.
For eight years now we have catered for the areas of Hampshire. A family run business, we are driven to ensuring you and your guests enjoy the best experience possible, using every one of those years of experience to provide you with the tastiest food possible. We ensure that all of the meat you eat is locally reared produce, guaranteeing you the best of British, and if you hire out one of our machines, you can be assured that it is tested rigorously to ensure the highest of standards in both safety and usage – all of our machines are CE marked.