We often cater childrens' themed birthday parties and have been especially busy with them over the summer months but earlier today we catered for a fantastic fancy dress birthday party that had a Rock 'n' Roll theme. The birthday boy, Gavin, is a self-confessed Elvis fanatic and decided that his 60th birthday should be about music stars of the 50s, including his favourite singer Elvis Presley.
Gavin popped in to see us to talk about the food catering for his party. After exploring our different options, he decided that he wanted a hog roast in Selborne centrepiece, with hog roast rolls served buffet-style, as he'd tried ours at his son's wedding last year and had dreamed about them ever since! We roast a locally-sourced, quality hog for several hours until the outside is crispy and golden, with lots of delicious salty crackling, and the inside is tender and moist and just melts in the mouth. He also wanted some salad dishes, which we freshly prepare on the day at the venue, too, as we know that fresh food is key.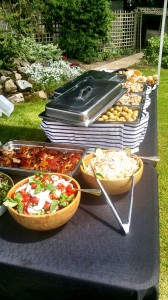 The day before Gavin's party he called us in a panic, as he had found out that 2 of his 40 guests were on a gluten-free diet. We put him at ease straight away, as our hog roast, stuffing and sauces are all suitable for those with gluten intolerances already, and we can supply gluten-free bread rolls so that those guests can enjoy the same kind of food experience as everyone else. Breathing a sigh of relief, Gavin thanked us and said he was very glad he had chosen our hog roast Selborne services for his function.
We got to the party yesterday afternoon, ready to roast the hog for a few hours before a tea time serving. There was a jukebox playing all the greats, Elvis balloons and banners everywhere and the plates had been made to look like 12″ records, which was a pretty neat idea. As the hog cooked away beautifully, filling the air with wondrous smells, Gavin changed into his costume. It was no surprise that he came back dressed as The King, ready to dance the night away with friends and family after sampling our delicious food.