When Kristina called us about catering a corporate event at her workplace with a hog roast Timsbury, we tried to find the perfect resolution for her food requirements. Many people host outdoors events even at this chilly time of year (and sometimes also in the freezing cold winter weather!) and even if it rains, we have solutions to offer you. If it's forecast for a downpour or windy outside, we have marquee tents that we can bring along on the day to put up and we can cook a hog or spit roast inside them. You may want your roast cooked indoors instead of in a marquee tent, however, and that is possible depending on the size of the venue space and the ventilation there. Whatever your corporate needs, we can work around them.
Kristina's event would be for more than sixty clients and staff members and she wanted them to be seated inside a marquee tent in the grounds of the business. One of our bigger marquees would do the job, so that was one thing ticked off. While the main meal of our winter warmer hog roast Timsbury would be buffet-style, she also required sit-down starters for the guests, with some needing a vegetarian option, which is not a problem at all. We often cater for all kinds of dietary requirements and our chefs are adept at creating tasty alternatives. For this event, we could provide a tomato soup starter and fresh bread rolls for everyone, a vegetarian main of a handmade vegetable tart for 3 people and the hog roast Timsbury for everyone else.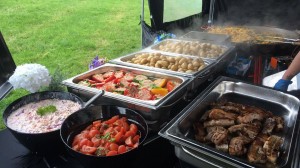 On the day of the corporate event, we met up with Kristina so she could show us where to set up the marquee, serving tables and hog roast machine. It would take several hours to cook the juicy beast we'd brought along, so we set to work preparing the meat. Time flew by and we then cracked on with roasting the winter root vegetables in a herb butter and preparing the veggie tart, onion gravy, tomato soup and bread rolls. Before we knew it, it was serving time, and after the hog had rested for half an hour, it was perfectly succulent on the inside and crispy on the outside and ready to be sliced into.