It is undeniable that the catering market is packed full of excellent businesses, each with different pros, cons and specialities. As a result, it can make choosing a caterer for your event increasingly difficult! Once you have found caterers within your budget and location, it is likely that you will still be left with a list of businesses to choose between. Here is what makes Hog Roast Kingston better than the rest..!
A menu for every budget
Hog Roast Kingston have over 7 different menus, ranging from simplistic to extravagant! Whichever menu you choose, you will receive delicious tasting food that is beautifully presented- regardless of what your budget may be. Our incredible variety of menus also ensures that there is a dish for every guest to enjoy.
No limit on guest numbers
In the past, we have catered to parties made up of as few as 20 guests, all the way to events with thousands of guests. Our team can cater to events of any size and we have no limit on guest numbers. Whatever scale of catering you require- we can accomplish it!
Franchises across the country
Hog Roast Kingston is made up of franchises across the country, meaning we can cater for events in a huge variety of locations. Wherever you may be, it is likely that we have a franchise close by that can provide delicious catering for you. We like our catering to be accessible to all, so no location in England is ruled out!
Multiple catering styles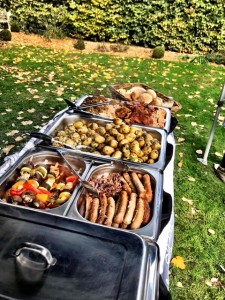 We have several catering styles, including buffet dining, alfresco dining and sit-down dining. This ensures that there is a style for every event, regardless of the level of formality you may require. Our team always guarantee to deliver an incredibly professional yet friendly service for every event.
Are you in need of a caterer for your upcoming event? If so, get in touch with Hog Roast Kingston today to book your date! Simply let us know your party size, date, and location and we can begin to plan your perfect catering package.