As we all know, the government's lockdown restrictions that were imposed back in December put a stop to many families across the country being able to reunite for Christmas and, to that end, it's fair to say that, like the rest of 2020, the festive celebrations were a bit of a write-off.
So, as we approach what will hopefully be the definitive end of lockdown later on in the month, many Brits have decided to take back the lost festival by hosting their belated Christmas parties on the 25th of June. Can you guess what they're calling it? Why, Junemas, of course!
While it might sound like a totally bizarre idea to celebrate Christmas in the summer, the Australians do it every year (albeit on the right day!), and who knows? Maybe it will catch on and become a new holiday!
After what has been such a long and undoubtedly difficult year for many of us, Hog Roast Ventnor has fully embraced this concept – and as it turns out, lots of our customers and clients have too! So on the 25th of this month, you'll find us pulling out our Xmas hats (not jumpers, though) and joining our patrons for their Junemas celebrations.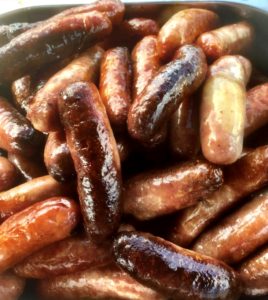 One client who recently approached us with a booking of this style was Carol-Anne, who has invited forty-something people to her home in the countryside for a non-traditional Xmas feast, which she has asked the Hog Roast Ventnor team to provide.
As you might have guessed, we're all really excited to embark on this brand-new experience, and we can't wait to see what Carol-Anne comes up with for the decorations and entertainment. So far, she has hinted at having a slip and slide, a seashell-themed Christmas tree, and the table centrepieces will be Santa's wearing shorts and sunglasses!
Instead of our traditional Christmas lunch, Hog Roast Ventnor has been asked to serve our mouth-watering Gourmet BBQ spread, which includes homemade 100% beef patties, gourmet sausages, meaty marinated spare ribs and succulent chicken kebabs with a selection of rolls and wraps, Greek salad, chips, coleslaw and a meat-free option of BBQ pulled jackfruit.
Already everyone is in high spirits as we inch ever closer to the unique celebration, and Hog Roast Ventnor can't wait to check in and let you know how it goes!