It's not every day that a company marks its 75th year in business. But back in April, after being passed down by not one but two generations of the same family, Hampshire's award-winning aerospace led engineering firm, Bowyer Engineering, reached this landmark anniversary!
Sharing the special date with St George's Day, of course, called for double the celebrations, and as industry experts, our team here at Hog Roast Andover was tasked with catering for the all-important corporate event.
Calling us to discuss details of the booking, a rep for the company let us know how many mouths we would be in charge of feeding (on this occasion, there were 50), along with their desired serving time and, perhaps most importantly, what the menu should include.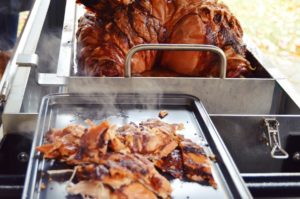 It was quickly decided that our Classic Hog Roast menu would be the best choice for the function, which promises an authentic spit roast experience with all the bells and whistles that you would expect from a Hog Roast Andover feast; including, but not limited to, sage and onion stuffing, homemade applesauce and crispy, golden crackling.
Celebrating with COVID restrictions in place, as always, proved to be a bit of a challenge, but if you know anything about Hog Roast Handover, then you'll know we thrive under pressure! And so, donning masks, gloves and aprons, our catering crew set up the cooking equipment and hog roasting gazebo in the Bowyer Engineering car park at 7:00 am on the morning of the event, and working tirelessly to prepare for the 10 am serving time, they quickly prepped the pork by scoring the skin, coating it in a layer of salt and leaving it to slow-cook above a tray of stuffing.
Meat eaters taken care of, Hog Roast Andover used their remaining time to cook the chips, and the plant-based options of BBQ pulled jackfruit wraps and grilled veggie kebabs before the staff arrived to celebrate.
From 10 am until 1 pm, our catering crew worked like a well-oiled machine, relentlessly dishing up mouth-watering pulled pork rolls and meatless wraps to the queueing punters who eagerly chowed down on the flavour-packed treat.