We know that a couple's wedding is one of the biggest days of their life, and Hog Roast Dinton know it's important to choose the perfect menu to fit the tone of your day, whether that be relaxed with buffet style service or more formal with table service. For Claire and Adam's wedding we provided both food, staff and drinks service of prosecco and champagne to help the couple add a special feel to their wedding and wedding reception.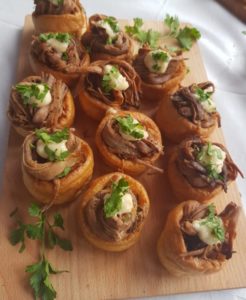 Claire and Adam wanted our drinks service on arrival, followed by Hog Roast Dinton's staff serving canapes from arrival until when guests started to sit down. There were over 180 wedding guests, so we started bringing out their starters as soon as possible, the choice for the starters were fresh homemade soup, salad niçoise or Parma ham served on warm new potatoes.  The main course was sharing platters of pulled pork, fresh salads, new potatoes and veggie skewers and a selection of bread rolls and wraps, this was opted as a more informal service as the couple wanted guests to mingle and get to know each other.
Once everyone had devoured their main course and the couple had done their speeches along with the best man and maid of honour. The guests knew it was time for desserts, our staff handed out a choice of summer pudding, sticky toffee pudding or chocolate torte and left guests feeling more than satisfied. Whilst the couple and their guests danced the night away Hog Roast Dinton's staff cleaned and tidied whilst also getting ready for the evening buffet, the buffet consisted of spit roasted chickens, served with Caesar salad, crispy Thai salad and Green Leaf salad. This was all left for guests to help themselves along with parcels for them to fill with any left-over meats and salads.
Claire and Adam made sure to catch us before we left to let us know that the service was perfect and that they couldn't of asked for anyone better to make their perfect day extra special.