The final weeks of March saw Hog Roast Sixpenny Handley travel all the way to Dorset where they got to help a local construction company to celebrate 30 years of successful business with one of our classic hog roasts. Since 1989 the company have grown from a small garage in the managers house to owning over twenty shops throughout the UK. They supply tradespeople with an array of supplies including building panels, fabrication services, cladding boards and providing advice on numerous projects from housing to DIY. The company wanted to celebrate in style, so they threw together a large carnival style event for over 200 members of staff and their families at their head office.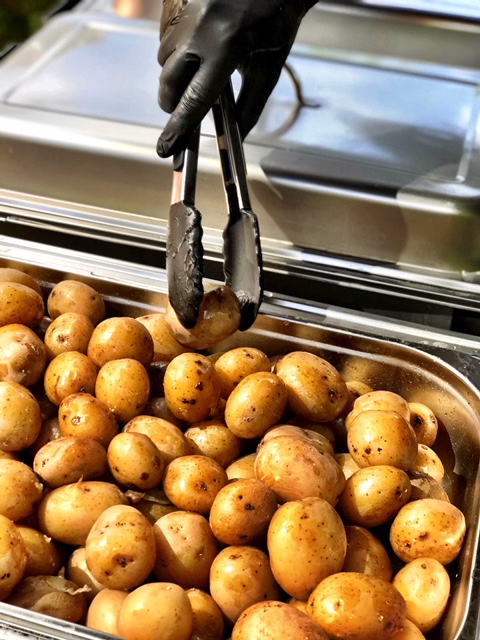 Our highly experienced catering team looked after the company and all the members of staff. After the company's boss looked at the menus they decided to go with our classic hog roast menu with new potatoes, a variety of salads and of course the succulent hog roast with crispy crackling and stuffing.
When the day of celebration came, Hog Roast Sixpenny Handley arrived early to the site where they set up their stand near the kitchen, the other stands included popcorn maker, sweet stand and various activities including bouncy castles, trampolines and face painting. Whilst the meat was slowly cooking in the background, the team focused on preparing the side dishes and making sure the new potatoes where crispy on the outside but fluffy on the inside. The dishes would be served on eco-friendly wooden crockery and cutlery, perfect for easy recycling and creates a great rustic look.
Serving time lasted over two hours whilst everyone got served and even came back for multiple servings, members of staff said they enjoyed the amazing hog roast along with the crispy salty crackling and stuffing – they even asked for the recipe.