We were very privileged at Hog Roast Amesbury to be asked to do the catering this week at Amanda and Harrys baby shower. This was an unusual baby shower in the fact that little baby Alba had already been born just two months earlier! The reason for having the shower so late was that the doting parents had moved stateside a few years ago and when Alba was born their English relatives had been unable to travel out to see them.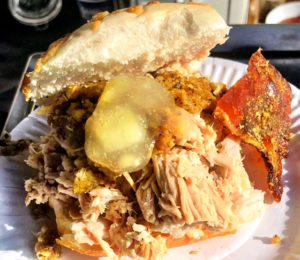 Having come back home to visit for Christmas and New Year they had decided to plan a sort of belated baby shower. This way all of the family would finally be able to meet Alba and congratulate Amanda and Harry in person which we thought was a lovely idea.
For this event the Hog Roast Amesbury team had planned to create our delicious hog roast rolls which we have become famous locally for. It was Amanda's mum who had actually recommended Hog Roast Amesbury after trying our food at her friend's birthday and giving us a glowing review, so we knew we had to impress again. We set the meat onto cook as soon as we arrived on site to give it the maximum time to cook and become succulent and packed full of flavour. Our head chef also whipped up a vegetable tarte for any vegetarians and created a beautiful array of fresh salads to accompany the hog roast rolls.
Once everyone had arrived and given Alba lots of hug and kisses it was time to serve up our food. Everyone was eager to get a taste of our hog roast and Harry commented that he had really missed the UK for the food and that Hog Roast Amesbury had really quenched his appetite for that scrumptious, hearty British roast that we are known for- we are always happy to be of service!