Recently, Lin's local council met for one of their weekly meetings to discuss the progress being made in the local area and the issues that had arisen. After a year of hard work, Lin wanted to reward the groups and so organised a small party to celebrate and also invited some of the local people who had involved themselves heavily in the past year.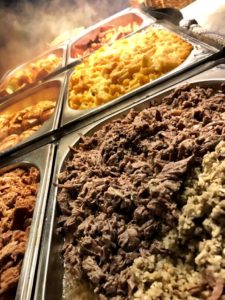 Lin hired the Hog Roast Amesbury team help her bring the party together. She hosted the party at the council building and invited a large number of people. On the night, her friends at the council building helped her to rearrange the venue and the Hog Roast team came in and set up their tables and cooking equipment inside the venue. Lin had selected the Southern Slow Roast Menu for the event from the private party menu. From the variety of meats offered she chose Creole pulled quarter of spiced lamb, delicious Cajun spiced whole roast chickens and Texan 24-hour beef brisket. In addition, Cajun hot pepper sauce, Jack Daniels smoky sweet BBQ glaze and Stubbs legendary hickory bourbon BBQ sauce.
   In addition to the main meats, Lin selected the sides that the Hog Roast Amesbury team would supply. They included the Greek salad, corn cobettes, Memphis style crunchy coleslaw and skin-on southern style whole baked potatoes. In addition, a vegetarian option of grilled vegetable and halloumi wraps with tzatziki sauce was also provided. Furthermore, the menu was served alongside fresh bread rolls and wraps to ensure that the menu complimented the casual atmosphere.
   The event went down wonderfully and all of Lin's guests really enjoyed the celebration. In addition, everyone really enjoyed the food and the party was a great way to celebrate the progress the council had made over the year. In addition, the team worked hard to ensure that all of the food was delivered at the same time and there was plenty of food to go around. Furthermore, it was a great way for everyone in the local community to come together. Overall, Lin was overjoyed with the fantastic success of the evening and everyone thoroughly enjoyed the celebration.