We were delighted to recently cater for a summer party with a somewhat sporty theme with a hog roast in Woodmancott. Dan and Melissa's housewarming celebration a couple of weeks ago had a Wimbledon tennis theme, while the Grand Slam tournament was in full swing. The couple are both big tennis fans, so what better theme to enjoy at this time of year, just a month after settling in to their very first joint-owned home.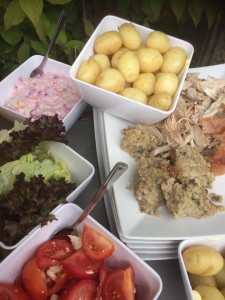 I have to say that it was a first for me to cater for a Wimbledon hog roast party but it was an event that I will probably never forget. Dan and Melissa wanted our Party Menu 1, which is essentially hog roast sandwiches. We slowly roast your hog at your venue for a few hours (we need to cook bigger pigs for longer but this intimate garden party just needed a smaller one) and then serve the meat and crackling in rolls with sauces and stuffing. They also opted for some salads and potatoes. It was their first ever hog roast in Woodmancott and their lovely new home needed christening with the smell of freshly-cooked pig and the taste of melt-in-your-mouth pork.
A generous helping of fresh strawberries and cream finished off the meal for the guests nicely and then it was time for them to retire inside, full of lovely food, to watch some more tennis. A successful hog roast in Woodmancott.As it was a fairly small affair, I catered the party by myself, arriving early to roast the pig for a few, short hours. The large garden was being decorated as I cooked and I was shocked to see Andy Murray as a special guest! Then I realised it was a lifesize cut-out and I sheepishly went back to tending to my hog. Melissa and her friend decorated the garden and the outside of the house with bunting, banners, tennis balls and racquets and then the guests started to arrive, some dressed aptly in tennis whites and trainers. Pimms was served while I carved off the crackling and dug into the flesh to make plenty of sandwiches. I served the meat hot on soft, floury rolls and the guests added our sublime apple sauce, delicious homemade stuffing and choice of condiments.