Another gorgeous summery day in July, another successful hog roast, catering for a corporate hospitality event with a Hog Roast in Upton Grey. The organiser called us a few weeks ago, asking about our different services, and was very surprised to hear that we even sell our own hog roast machines. We have a showroom and factory here in the UK, where we make machines that we proudly designed ourselves. We have years of experience in selling and hiring out our machines, as well as providing catering for any kind of celebration or event that you can think of.
For this company event, we were asked to provide our Corporate Hospitality Menu 2, which is great for an informal buffet. While you can opt for a different meat such as beef, lamb, turkey or chicken, this business wanted our very popular hog roast, served as a snack in a roll (or 'pig in a bun', as we like to say). We provide the hog and roast it for hours at your venue, so that the sweet smells fill the air and, together with the visual display, makes your guests' mouths water. Then the crackling and the pork itself is sliced and placed into bread rolls, and your guests can add some stuffing, apple sauce, and condiments. I bet even the thought of it is making your mouth water, now!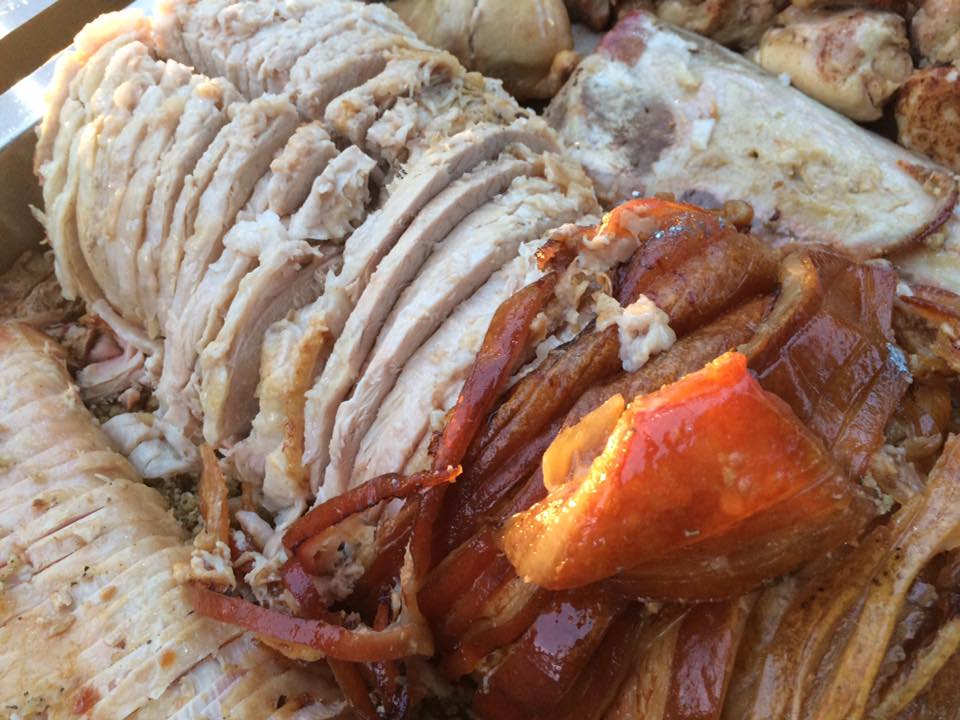 For the 60 guests of employers, employees, and business contacts, a large hog was ordered and we took it along to the workplace on Wednesday. We set up our gazebo outside nice and early, as we needed to cook the pig for several hours for a lunchtime serving. After preparing the flesh and starting up the machine, we kept a close eye on the cooking process until it was time for the hog to roast before carving. Meanwhile, jacket wedges were cooked in the tray underneath the meat and we prepared the serving table, sliced the soft rolls and freshly prepared some salad dishes. Soon it was time for the long queues to begin, and as we started carving the crackling and the meat, there was a round of applause and we were ready to feed the hungry hordes with the delicious hog roast we had cooked in Upton Grey.