One of the most important aspects of any event has to be the food. As we've been a top catering company for many years now, we know that taking over that part of your event (which is often the most stressful part) means you can massively reduce your stress and save time. By handing over the cooking reins to experienced and competent caterers, you can spend more time socialising with your guests instead of preparing, constantly checking on and dishing out the food. You won't even need to clean up afterwards, either!
Sometimes you can even save money by hiring people to cater for you; for instance, The Spitting Pig comes complete with your requested food, the hog roasting equipment, a gazebo or marquee and a serving table, as well as various items such as napkins and sauces. If you had to buy or hire some of these items for your party, as well as certain items of food to cook yourself, it could work out expensive.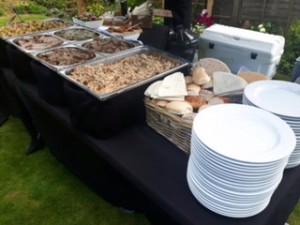 For a birthday party that we catered over the wet weekend, we provided a delicious hog roast in Britford for a party of 50. As the wet weather was to be expected, we arrived on-site with one of our marquee tents, so that everyone could enjoy the food despite the downpours. We got to work preparing the pig well in advance of the food service, which was to be in the early afternoon. We'd brought along a really fat and juicy 50kg hog and it takes around an hour to cook every 10 kilos. Once cooked, it then needs to rest a little while before carving, so that the meat is then tender and juicy. Plus slow roasting it for several hours smothered in salt produces the lovely crackling on the outside, which people just can't get enough of.
By the time the guests had all arrived, the fantastic smells of the freshly-cooked hog roast in Britford wafted all around the marquee and the pig was perfectly cooked, rested and ready to be sliced and made into pigs in buns, together with our special stuffing and apple sauce. The queues started to form just as soon as I picked up my carving knives…