In our time as caterers, the Hog Roast Tidworth team have provided food at many varied locations. Just this week we had been asked to come and cater a wedding at the historic Bhurtore Officers Mess Barracks in Tidworth.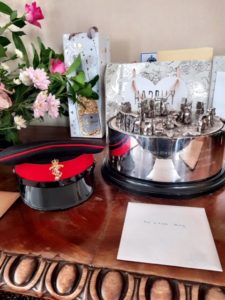 This grade II listed building was built adjoining to Lucknow and Mooltan Barracks and named after the Siege of Bharatpur in 1805. Today however, this historic location was being utilised as a wedding venue for our two lovely clients.
Our Hog Roast Tidworth team for the day, led by catering manager Greg arrived on site bright and early in order to get everything underway. A sneak peek inside the venue revealed a stunning room that had been transformed into the perfect wedding venue. With our gazebo set up just outdoors we had plenty of space from which to get everything ready for our guests.
On the menu for today was our wedding menu four, spit roast style. We always like to give our clients plenty of choice when it comes to their menus and that's why we can offer not only different meats to cook but also different ways of cooking them. We often find that our spit roasted hog offers more of a spectacle and talking point at any event and even more so once people try a taste!
To accompany the roast, we would be serving our Thai salad, tomato and mozzarella salad plus a pasta salad. The meal would be complete with our potato wedges, a firm favourite.
Once guests were seated, at approximately 4.30pm our Hog Roast Tidworth team began serving the succulent roast to tables. People were amazed at how we are able to get such tender meat from a spit roast and so we explained that it's all about patience!
We finished up by congratulating the newlyweds and discretely packing away- leaving all to enjoy their night at the Barracks.