To mark his parents spending 50 years of married life together, their sons David and Andrew decided they deserved a special celebration to mark such a momentous milestone in their lives. Over the years, their parents had always maintained their love for rock n roll music, so their sons decided a rock n roll themed party was the way to go! Their parents were also both massive pork fans, so a hog roast seemed like the best catering option, but they wondered if it would fit with the theme. When they saw Hog Roast Havant's stylish and modern party menus though, they realised they really could give their parents everything they wanted for their special anniversary celebration!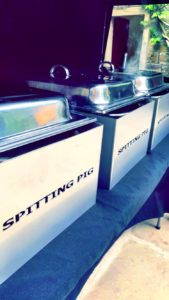 With the entire family and lots of friends with varied tastes to feed, they were thrilled with Hog Roast Havant's ability to provide not only perfectly cooked pork their parents would love, but also alternative dishes, including vegetarian, vegan and gluten-free substitutes, to ensure everyone could enjoy the food together and no one went hungry! They were also impressed with the way we never cut corners in any aspect of our menu preparation and how we always freshly prepare everything at the venue no matter how varied the menu is!
David and Andrew's parents were thrilled with the rock n roll theme for their anniversary party and the music brought back lots of nice memories they had shared together over the years. They were just as thrilled with the food and the Hog Roast Havant were very flattered to be told by two such lifelong pork fans that ours was the best they had ever tasted! The rest of the guests loved the food too and we were thanked by those who did have specific dietary needs for catering for them so effectively!
It was a very special celebration for a very special married couple who had stood the test of time and the Hog Roast Havant team felt very honoured that we had been asked to play such a crucial part in helping them to commemorate their golden wedding anniversary!