This summer, Matthew recently opened his new microbrewery and was an instant hit with the locals. He set up a small beer garden behind his miniature pub and it was a brilliant sun trap to draw people in. However, Matthew knew that to sustain his business he was going to have to increase the number of customers by advertising to more than just the locals.
After recommendations from friends, Matthew decided to hire Hog Roast Portsmouth team to come and create a hog roast in his beer garden to draw in new customers for his promotion day. Matthew made his preparations by advertising around town and sending leaflets out a little further afar and ensured that his microbrewery was fully stocked ready for the big day.
Within the hour Matthew opened for service at lunchtime, he knew that word had got around as people flooded in to try his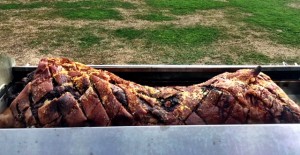 new brews and gathered in the beer garden for picks of the Hog Roast Portsmouth buffet. The hog roast was crucial to Matthew's promotion day as it drew new customers in and they stayed put in the little pub drinking more and more of his specials board. Without the summer sun and the Hog Roast Portsmouth team, Matthew doubted he would have had half the success and they were key to starting his new business off with a big bang. In addition, there was no need for bar snacks as the hog roast sustained the customer's interest and made sure customers returned on their way back from their pub crawl for their second pint at Matthew's microbrewery as they loved the atmosphere that surrounded the little business.
Matthew's hire of the Hog Roast Portsmouth team was well worth the investment as he gained the money he spent on the hog roast (to make it free to his customers) back from all the drinks he sold. Yet, Matthew gained many new customers from his promotion day and it also boosted the Hog Roast Portsmouth team as well as they gained many more customers too as a result.