Another wedding means another Hog Roast Horndean! This week we were asked to cater at Ruby and Mikes wedding that was being held at the town hall. We were told over the phone that there was no particular theme but as it was now officially Autumn the couple wanted everything to have an autumnal feel to it. So that meant the decorations were all very rustic looking such as wood carved sculptress for centrepieces and lots of candles. Ruby also told us she had designed the cake herself as she owns a bakery and it was going to be a red velvet three-tiered cake with lots of intricate sugar work to make it look as though leaves had fallen on the cake. We thought that sounded amazing and told them we couldn't wait to see it all but, in the meantime,, we would get preparing their Hog Roast Horndean.
For this event we had been asked to provide our traditional spit roasted hog with lots of seasonal vegetables cooked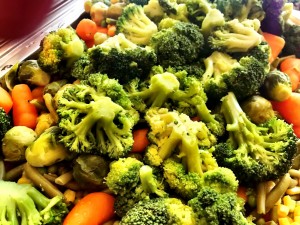 alongside it. As the couple wanted a more laid-back affair we didn't need to supply any canapes as they had gone for nibbles instead on the tables. We arrived on site 8 hours before the serve time at 5pm as we always like to cook everything from scratch on site as we believe that the art of hog roasting takes time and patience and of course it means that everyone gets to enjoy the beautiful aromas of the hog slowly cooking away whilst we work. Another benefit to us being there so early was that we got to see the venue transformed into an autumnal wonder land and it was truly beautiful and so romantic!
Once the happy couple and all their guests arrived we got to work serving our Hog Roast Horndean. As we glanced around the room there was nothing but happy, satisfied faces and that's when we know it's been another job well done…