As we get older people tend to stop celebrating their birthdays as much as they did when they were a child and don't see the date as exciting anymore. Here at Hog Roast Hook we want to change that outlook as we believe every year is cause for a celebration and a party and of course a Hog Roast Hook!
This week we were busy catering for Jesse who was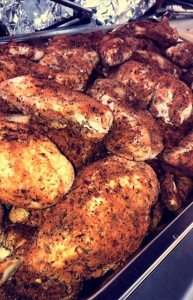 celebrating his fortieth birthday. He told us on the phone that he hadn't wanted to celebrate but after coercion from his girlfriend he had been persuaded and so he wanted to make sure he celebrated in style. That's where Hog Roast Hook comes in! We explained that we would be more than able to come to his home, where the event was being held, and cook a traditional spit roast there for all his guests to view and enjoy and he was convinced!
We agreed on our 'Southern Slow Roast' menu as Jesse couldn't decide on which type of food he most wanted to try as he said, 'they all sound so delicious'. With this menu we can cook three different meats in different styles with lots of flavour. Jesse had already chosen the spectacle of a spit roasted hog for the main event, so he decided to accompany that with some Cajun spiced whole roasted chickens and Creole Pulled Quarter of Spiced Lamb. This was all prepared-on site hours before the guests arrived to ensure the finest quality meat upon serve time. For the accompaniments we prepared lots of our crunchy coleslaw and some corn on the cobbs which always go down well. The meat was also served with some seasonal vegetables that we roasted in the tray along with the hog. With the food ready all that was needed now was for the guests to arrive and taste it all…