Christmas will undoubtedly look a lot different this year from what we're used to, but that doesn't mean you should have to settle for second best. So, wave goodbye to countless hours spent slaving over a hot stove or waiting in long supermarket queues for those all-important ingredients you forgot the first time around. Instead, spend the month of December with your feet up, knowing that something exceptional is coming your way!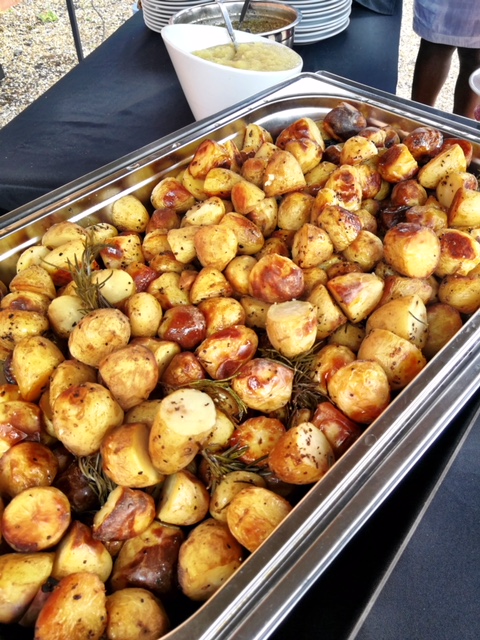 At Hog Roast West Lulworth we've made it our mission to remove any unnecessary stress from the festive period, allowing you to unwind and relax in the run-up to Xmas. Just think of it as being our gift to you. Our team of experts will help you through every step of the process, and we guarantee a smooth service from start to finish.
This year, bring the whole shebang to your dinner table with one of our Christmas menus. Featuring beautifully seasoned rotisserie-cooked turkey, juicy pigs in blankets, Yorkshire puddings, homemade mince pies and plenty of steam-cooked, seasonal veg – our Hog Roast West Lulworth festive feasts are to die for! With a wealth of quality dishes to choose from, and inclusive foods to appease any non-meat-eating family members, everyone, is guaranteed to be well-fed this festive season.
Ben and Jaqueline were the latest to enlist in our services after deciding that they wanted to spend an as little amount of time in the kitchen as possible this year. Especially since most of their family have differing dietary requirements which can make pleasing everyone a tricky task. Fortunately for them, they soon stumbled across our website and after reading all about our comprehensive catering options, they immediately got in touch.
Within an hour of speaking to the Hog Roast West Lulworth customer service team, the family Christmas dinner was completely booked. Jaqueline and Ben cannot wait to dig into the festive lunch, which will include a traditional turkey feast, along with a meat-free alternative for their vegan daughter.
With November now in full swing, our Christmas bookings are starting to fill up fast, so call today to avoid missing out on a meal that your family will remember for years to come.