`Formal corporate dining can be a great opportunity to bond over a great meal, or a way to discuss plans for the future and challenges faced. Formal dining can include a delicious 3 course meal, with the addition of canapés, a drinks service, or both! The catering package that you choose entirely depends on the style of event that you wish to host. At Hog Roast Firgo, we can provide a variety of different formal dining menus, including this tasty option…
With Christmas rapidly approaching, this has been a very busy week for Hog Roast Firgo since so many corporate Christmas events are taking place. Our team was contacted by a local business to arrange a formal dinner for the managers and CEOs, to provide an opportunity to chat about the successes of the previous year. A sit-down meal was needed since it would set a formal tone for the evening and would create the ideal atmosphere for a discussion to take place. After discussing any further catering needs, it was decided that Hog Roast Firgo would provide a formal catering package for this event, suitable for 15 guests.
On the day of the meal, the Hog Roast Firgo team arrived on site early to prepare the dishes. The menu began with starters served tableside consisting of soup of the day with fresh bread rolls. This is a classic starter that is always a success among guests.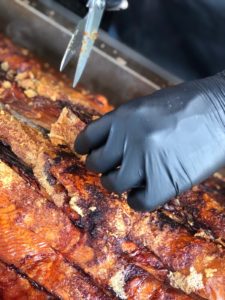 Once the starters had been enjoyed, our team served a classic Hog Roast Firgo main course, consisting of slow-roasted pork and a selection of delicious side dishes. This course was served buffet style, allowing the guests to create their ideal meal.
To finish the menu, the guests chose from profiteroles or fresh fruit salad, with each dish served with English cream. This was an elegant way to end the meal as the dishes both looked and tasted incredible!
Do you have a formal corporate event in need of catering? If so, get in touch with Hog Roast Firgo today to book your date. Simply let us know your party size, date, and location and we can begin to create your ideal catering package. We hope to hear from you soon!