When you are planning your big day, you want the assurance that everyone who you employ to provide services in any aspect of your wedding is going to give you the best possible standard and ensure every detail is exactly how you want it to be. The catering is such a key aspect of planning any wedding celebration and regardless of whether you want a grandiose reception or a more lowkey celebration, you need a catering team who can offer you the style, quality and variety of food that is worthy of your special day.
Here at Hog Roast Frogham, we are highly experienced in all facets of wedding catering, and we have the local knowledge and outdoor wedding catering expertise to make your wedding reception the magical experience that you deserve.
Our modern interpretation of hog roast catering and refined wedding menus are perfect for any style of reception. Our wedding packages vary in content and complexity, and we will provide you with a tailored wedding menu that completely suits your tastes and the type of ambiance that you want to create for your wedding reception.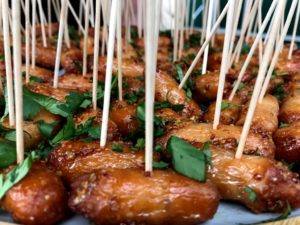 From classic hog roast buffets to elegant fine dining menus with the option of a canapé welcome reception and evening buffet later on, the Hog Roast Frogham team can cater for any type of wedding reception. All of our menus offer a multitude of dishes to suit the varied tastes of your guests, and our food is ideal for people of all ages. We also cater effectively for different diets, and all of our wedding packages come with appealing vegetarian and vegan options.
We will plan your wedding package with precision and prepare it all to perfection at your venue on the day. All of your food will be freshly made and ready to be served right on cue in your preferred style. We can also supply as many waiting staff and front of house staff as you need for your day.
Hog Roast Frogham can offer you your perfect wedding catering package for your day so please get in touch with us to discuss our varied options with a member of our expert team.