When it comes to a weekend away, some people love nothing better than getting back to nature, sleeping under the stars and roughing it in a tent, whereas others prefer a little bit of luxury and home comforts. This was precisely the dilemma for Steph when she was planning a weekend away with all her friends for her 30th birthday. Whilst she had always been a fan of camping, some of her friends balked at the idea of having to pitch a tent, walk 200 metres to the shower block and not have anywhere to plug in their hair straighteners! Steph and her friends reached a compromise and booked a site that offered both camping and glamping facilities, so everyone could still be together for her milestone birthday, and no one would be moaning about the mud and the rain! She decided to make a bit of a competition out of it to see who had the most fun-the campers or the glampers with the hope of converting her tent-averse mates to the sleeping bag and camping stove way of life!
The accommodation wasn't the only thing that caused a division amongst the group-Steph had decided to hire a caterer to cook for everyone on the first night (you're only 30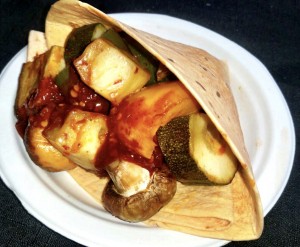 once after all!), but was unsure if a) any company would be willing to traipse to the campsite and cook outdoors, and b) any company would be able to provide a meal that would please everyone, as some of her friends were staunch carnivores, whereas others dedicated vegetarians! Just as Steph was starting to wonder whether it was all worth the hassle (and also whether she should just get some new friends!), her dining dilemma was resolved when she contacted Hog Roast Winchester! Not only are we experts at cooking al fresco in the middle of a field, we can also offer a range of delicious meat and vegetarian options!
Steph was beyond relieved and when the Hog Roast Winchester team arrived, we found ourselves caught in the middle of two armed and hostile camps! The glampers had their feet up outside their stylish yurts and were sipping bubbly, whilst watching the campers struggling with tent poles! We certainly didn't have any struggle setting up our Hogmaster and preparing a delicious feast that pleased everyone! Steph and her friends might still disagree about camping, but both the meat-lovers and vegetarians all agreed about how awesome Hog Roast Winchester's crowd-pleasing feast was!