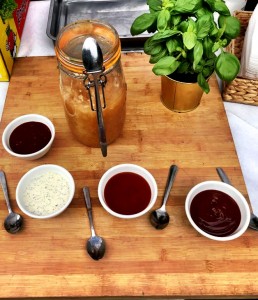 The lovely spring sunshine means Hog Roast Ringwood is busier than ever, and even covering events for areas outside of Hampshire, as we sometimes do and as other franchises sometimes do for us too. We recently catered a traditional local event in Herefordshire in early June – the Fownhope Heart of Oak Society Club Walk, which has been going since as far back as the early 1800s!
This Fownhope Heart of Oak Society Club Walk is an annual event held on a Saturday near Oak Apple Day, which is also known as Restoration Day, the former public holiday celebrated near the end of May. Associations for rural workers like Friendly Societies would get together for a sports day or a club walk and the village of Fownhope still continues the tradition of both in modern times, with a walk around the village and also sports events later. For the walk, Heart of Oak Society members carry decorated sticks covered with flowers and leaves and they and the other walkers are led through the village by a band. At the end of the walk, it ends with refreshments and this year Hog Roast Ringwood was asked to cook some lovely food for those who took part.
When Sue at AllWater Technologies Ltd booked us to cater the Fownhope Heart of Oak Society Club Walk, it would be in the Whiterdine fields behind The New Inn in the village – the end of this year's walk. We were asked to provide our very popular Southern Slow Roast Menu with a variety of meats and accompanying dishes. With this menu, the meats are roasted at a low temperature slowly for several hours and then enjoyed with food such as mac and cheese, jacket potatoes, various salads and spicy sweet potato wedges. There's certainly plenty of variety with this particular menu.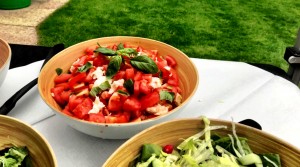 The weather stayed absolutely glorious and after a church service, the Leominster Morris dancers dancing away, the great band entertaining the villagers and the family sports events, by 3pm it was time for Hog Roast Ringwood to serve some of our delicious fare to the hungry crowds.