Rejoice for the sun is finally out, the cold dark wintry nights are going away and the trees, flowers and plants are beginning to bloom bright and colourful – spring is finally upon us, and what better way than to celebrate than with the fine taste of Hog Roast Sutton Scotney!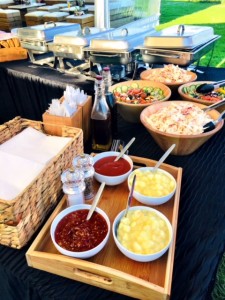 As restrictions around the country also begin to ease up and allow us to go outside more and share in the wonderful spring weather we here at Hog Roast Sutton Scotney are perfectly placed to provide gourmet outdoor dining. We've kept our brilliant food delivery going throughout the last few months, and now with the warmer weather why not add our incredible rolls, salads, and pork roasts to your next park picnic. Hog Roast Sutton Scotney have so much on offer to match up to the fine outdoor weather and help ease you back into the spring delights and the slow return to normality.
Under current restrictions outdoor dining is the best way to stay safe, and we always stringently follow every COVID precaution and safety guideline while we provide you delicious outdoor dining. Our hog roasting craft is ready made for outdoor use as it is anyway, and so there are few more delighted to see the return of the sun than us!
Or, of course, maybe you want to keep your spring delights amongst just a small group of family and friends – it is the safest option after all – in which case you can still receive the exquisite tastes and gourmet dining of Hog Roast Sutton Scotney. Our varying size hog roasters and spit roasters are fully available for hire yourself. Try a barbecue with a bit of a difference this spring and summer as you slow cook a fine roast in the best way possible. And, what's more, with our very own premium made machines it couldn't be any easier to achieve the perfect roast taste and texture that you are seeking. Just prep your meats and foods, set it in the roaster and forget it – the only hardship is the agonising wait to get your hands finally on those finished delicious fancies, but it is all the more worth it when you do!