As the country begins to open up, slowly but surely, Spitting Pig would like to invite you to join our ever-expanding family of hog-roast-enthusiasts. With the hospitality industry preparing to make a grand return this summer, we are now on the hunt for some passion-driven individuals to help us grow our reach by taking on a Hog Roast Gosport franchise!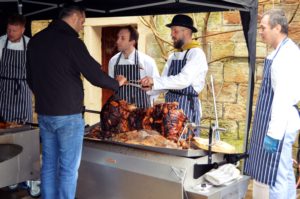 This opportunity of a lifetime will allow you to work from home, across hours that suit you best, meaning you can easily juggle family commitments or simply cultivate your dream work-life balance around your brand new career. We also offer fantastic training schemes, led by our very own hog roasting experts, which will quickly get you up to speed with the whole cooking, serving and machine maintenance process. Also, our support doesn't stop the minute you finish your initial training with us. We will continue to offer advice and support for as long as you need it afterwards, and with access to our full national network of catering staff, you'll receive one-on-one assistance whenever you require it.
What's more, you'll never have to find your own leads or advertise your services anywhere. Being a Hog Roast Gosport franchisee means that all events will be passed over to you from our head office, so you'll never be short of work – and we'll even set you up with a sleek new website and FaceBook page, which will be regularly updated with blogs, news and links to other social media channels.
Working with Spitting Pig offers a wealth of opportunities for our members to take advantage of, not least the chance to meet some wonderful people (including some famous faces!), receive full admin support, and turn an excellent profit in your first year. If all of this sounds good, then you might also like to know that with our help, you can expect year on year growth of your business.
So, join our 28 other franchise members today by getting in touch with Spitting Pig and registering your interest in our Hog Roast Gosport opportunity. We can't wait to hear from you!