Just before Christmas we were contacted by Rachel who was a guest at a recent wedding that we had catered for. Rachel was organising her own birthday party for March which would be held at her house in Ropley. We have done plenty of Hog Roast Ropley, but Rachel's event was slightly different. Rachel is a vegetarian and absolutely loved the flavours from the vegetarian and vegan dishes that we served at the wedding, so much so that she was treating her guests to a full vegetarian catering experience, and she chose Hog Roast Ropley to do so.
You may think that this is a very unusual choice, but we receive so many compliments on our vegetarian dishes that I have lost count! We are passionate about making everyone feel included in the Hog Roasting experience, so why should the vegetarians miss out?
Rachel told us that she wanted enough of the vegetable skewers to feed all of her guests (these were her favourites so we made a few extra as they are always the most popular). The rest of the menu options she left to us! With 55 guests attending we make 80 of our famous skewers, dressed in our homemade sauce before barbequing. The skewers would be served in our fresh soft wraps. We opted to make our homemade quiche, an array of salads for the guests to choose from and a selection of side dishes including new potatoes, corn on the cob and sweet potato wedges. We made sure we put on a fantastic feast for the guests as Rachel was relying on us to pull out all the stops on her vegetarian themed birthday. She was very keen on proving to her friends and family that vegetarian food can be just as tasty and enjoyable, so we felt under pressure to impress but knew we would!
We didn't need to arrive to the house as early as we normally would as the preparation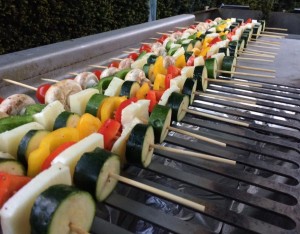 wouldn't take as long as we didn't have any meat to cook. We still arrived an hour and a half before serving to ensure plenty of time to set up and prepare the Hog Roast Ropley food. Rachel had made her own canapes for when the guests arrived as she does enjoy cooking too but didn't want too much stress on her birthday.
8.30pm arrived and we were ready to feed all of Rachel's intrigued guests with our specially designed vegetarian buffet. As expected the skewers went down excellently, along with the crunchy salads, surprisingly enough we had no food left at the end and all of the guests were happy and full! We definitely wanted to stay around a little to hear the feedback that the guests had and while we cleared up for Rachel we heard some fantastic compliments.
Although her friends may not be converted to vegetarians, they are now much more open to a few more vegetables in their diet! I am confident that we will be seeing Rachel and all her friends and family again soon at the next family party in Ropley!