Catering any kind of party or special occasion is what we do and we love to do it in style. Whether you are getting hitched and you want the formal wedding reception of your dreams, with several courses of food including our scrumptious hog or spit roast, or if you're holding an informal birthday celebration in your back garden with close friends and family and you want our delicious pigs in buns, at Hog Roast Chilworth, we are happy to do either. When Martha called us recently to see if we could fit her in for an engagement party for her daughter and her partner, she asked us all about our food options and was so surprised to hear what else we can do to help make your party a success…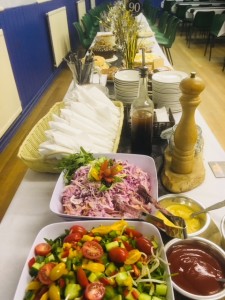 In addition to hogs and spit-roasted meat, here at Hog Roast Chilworth, we use our hog roast machines to cook barbecues or pizzas if you like, and we can even use one to cook an entire meal in one. If you fancy a hog roast accompanied by your choice of seasonal vegetables and potatoes, that's easy for us, as we designed each machine to work like a normal oven so that we can offer our customers plenty of variety. Martha wanted hog roast rolls for the party but was concerned about two of the guests invited to the do, as they both have a gluten intolerance, but we also offer many options for any guests with dietary requirements. She was extremely relieved to hear that those two guests could easily eat the same as everyone else, just with their own gluten-free bread rolls, and no-one would know any different.
On the day of the party in Martha's back garden, we met Dee and Ian, the newly-engaged couple who were being celebrated by family and friends. They were excited to experience Hog Roast Chilworth for the first time and even more excited to try our pigs in buns, which they already had heard about. Once the hog was cooked and rested, we stuffed bits of meat and crackling into the rolls, added our own stuffing and apple sauce and filled lots of hungry tummies with lots of tasty food.