Laura and Beth had turned 25 and since neither of them had had an 18th birthday party or a 21st they decided to have a 25th. Being older now and more mature they didn't want a party where people came, danced and got drunk. After much discussion they decided to have hire a room where they could have a sit down meal and afterwards guests could either get up and dance or sit and chat with others they hadn't seen for a while like old school friends. A suitable place was chosen at the social club in Rockford because the room wasn't too big and they could have outside caterers.
Laura and Beth were going to do a buffet themselves but after much discussion with family finding out how much work goes into it they decided against that idea and chose outside caterers. Hog Roast Rockford had been suggested to the girls as a great option due to the various options they do. Family friends had suggested Hog Roast Rockford as they had used them in the past for an anniversary party and were more than happy with the service and quality of food they provided. The girls looked on the website at the various menu options they do and were very impressed with the choice they could have. Beth rang us at Hog Roast Rockford the very next day to see if we were available on the date. As they were looking to book a few months in advance they were able to book they day they wanted.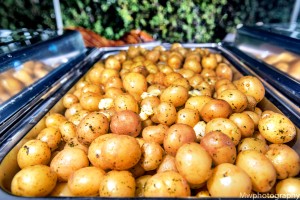 Beth found from speaking to us that we are very flexible and will accommodate wherever possible. Laura and Beth booked a 3 course sit down meal with the tables dressed with table linen and crockery from which the girls hadn't even thought about before they had a discussion with us. Homemade vegetable soup and crusty rolls were chosen as the starter. The girls decided to not have a choice of starter because they thought everybody would enjoy soup. As there wasn't any vegetarians spit roast chicken or spit roast beef were the choice of meats with new baby herby potatoes and seasonal vegetables. Apple sauce and sage & onion stuffing were one of Beth's favourite things so that is what she got.
For dessert the girls chose a fruity bread and butter pudding with fresh cream and Laura's favourite chocolate gateau with lashings of fresh cream. Followed by coffee and mints. The meal was a personal choice for girls who were very happy with the whole evening and thanked us at Hog Roast Rockford for the lovely meal.