When Tamara from Gambledown Farm asked Hog Roast Eastleigh to cater for more than 130 guests, there would be no hog roast in sight. Despite our name, we can actually cook much more than a hog roast, even though it is our speciality, as we can also spit-roast a different animal or bird, barbecue meats or cook all kinds of alternatives including fish and veggie options. For this event, we would be providing a gorgeous, slow-roasted spring lamb for 75 adults and sausages for 57 children, as well as a whole salmon and new potatoes in a herb butter as extra food.
Our team at Hog Roast Eastleigh arrived at Gambledown Farm in Sherfield English bright and early in the morning, ready to prepare and cook the food to be ready for a 1.30pm service. Sherfield English is a lovely, small village and civil parish just a few miles west of Romsey and Gambledown Farm is a working farm there that offers luxurious barn stays and glamping in stunning Hampshire countryside. The farm is set in 270 lovely acres, and they have cattle, sheep, pigs, and chickens, and it's lambing season there right now.
The lamb that Hog Roast Eastleigh prepared and cooked on-site for this party would be seasoned with rosemary and served with both mint and a mustard and dill sauce, and this and the sausages would be served alongside fresh, floury bread rolls and plenty of sauces, so that the adults could make lamb sarnies and the kids could make sausage ones if they liked. Depending on our customer's needs, we can provide real or disposable crockery, and for this special occasion, we brought along real crockery to serve all the delicious food on.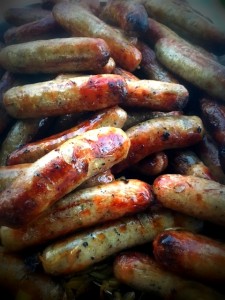 Nearer to the time of service and the lamb was resting before we cut into it. It had browned beautifully and the carving knife slipped right through the meat, which would melt in the mouth. We had also cooked the sausages, salmon and new potatoes, and everything was ready to be served to the dozens of guests, so our team prepared for the hordes to queue up to fill their tummies.