Hog Roast Lymington were catering for an Engagement party at the weekend for 200 guests and we pulled out all the stops as usual to make sure the couple had a night to remember! The event was held in a top club in town the couple said they booked us as they wanted to wow their guests with something different and didn't want the normal finger buffet that is normal at such events. We certainly aim to please and we knew just the thing to wow the guests and suggested a pig, which always gives the wow factor!
We arrived early evening to prepare and the room was beautifully decorated with congratulation banners and streamers and the tables all set just ready for the Hog Roast Lymington food. We placed the huge pig on the machine and within minutes it was spinning happily away cooking! We started to cover the tables in an assortment of delicious side dishes, a rainbow of colourful fresh salads, huge bowls of coleslaw, applesauce, garlic dip, mustards and lots of condiments to complement the meat. And placed lots of large bowls of wraps, and rolls on the tables and we stood back to admire and were very pleased! As the couple arrived they were full of smiles at the pig and wanted a picture near the pig for their social media account and we were happy to take the pic!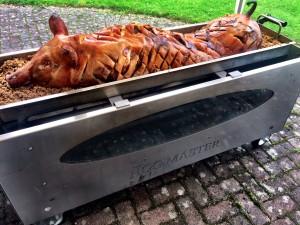 Everyone that arrived headed straight over to look at the Hog Roast Lymington cooking and said they hadn't seen a pig cooked like that before we said wait until you taste! After the formalities and some music it was time to eat and we had gathered a crowd as our chef sharpened his knives and carved. Cameras were flashing everywhere as guests took pics of our chef he was happy to pose as always! Then it was time to eat and eat they did and we did hear the word 'wow' several times! The pork was so moist and carved with ease it just melts in the mouth. The evening was a big hit especially the food and guests were too asking about booking an event as we said our goodbyes we were ready for bed as it was way past our bed time.