Goodbyes are never easy. But in Calum's case, saying farewell to his family, friends, and coworkers was a bittersweet moment, as, after 3 years of virtual dating, he had decided it was time to pack up his life and move abroad to join his dream girl, Ava, in the States, putting an end to all of their back and forth visits and video chats. And following several gruelling months of filling out paperwork, sorting out his visa and downsizing his possessions to fit in one suitcase and a travelon, he was finally ready to make the journey last week.
But before letting him set foot on the plane, his mum and dad, Kirsten and Gerry, wanted to give him a proper send-off. So, they had secretly planned a bon voyage party and invited everyone they could think of to come along. More than 150 people ended up confirming their attendance to the affair, which encouraged Kirsten and Gerry to call in Hog Roast New Milton to cater for the event.
Wanting to keep things simple, the pair had asked us to serve our Gourmet BBQ menu, which is always a popular choice at this time of year. Our catering manager, Nick, assured them that their event was in good hands and that everything would run like clockwork on the day.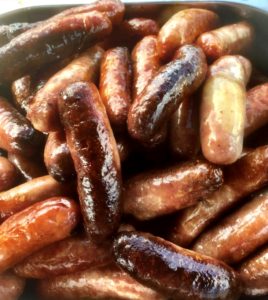 To keep true to his word, Nick made sure to arrive at the client's home early in the afternoon, giving the Hog Roast New Milton catering team enough time to prepare a gorgeous banquet of beautifully grilled meats. These included our chef's own gourmet sausages, chicken kebabs, marinated spareribs and our handmade British beef burger patties, which were served on a choice of either gluten-free or wholemeal rolls with melting cheese, lettuce and juicy tomato slices.
Hog Roast New Milton also rustled up some tasty BBQ pulled jackfruit buns for plant-based guests, along with a selection of sides consisting of Greek salad, mixed fries and coleslaw.
When Calum arrived at his mum and dad's house, thinking it was going to be one last visit before catching his plane the following morning, he was shocked to discover all of his loved ones waiting – and Hog Roast New Milton – to surprise him! He was blown away by the party and was thrilled to spend his final night in the UK with friendly faces and sensational food!