Fancy dress parties aren't just for Halloween- they can be enjoyed all year round and are perfect for guests of all ages! You may choose to include a theme for your party, with some great ones being decades, movie stars, red carpet, and cartoon characters. Or just you're your guests to dress up however they wish! For catering, Hog Roast Medstead recommends a delicious buffet menu for you and your guests, such as this one…
For Emily's 18th birthday, she has always planned on having a fancy-dress party and being surrounded by her friends and family! When planning her party, she decided on a decades themed event, with everyone dressing up as someone famous or iconic from their favourite period. This theme made planning the décor and entertainment easy, as everything was following the same theme. For the catering our manager Nick was hired to provide a delicious buffet for the occasion, providing enough dishes for 120 guests to enjoy. After looking through our menus, Emily decided that our classic hog roast was the ideal choice, along with a vegetarian option.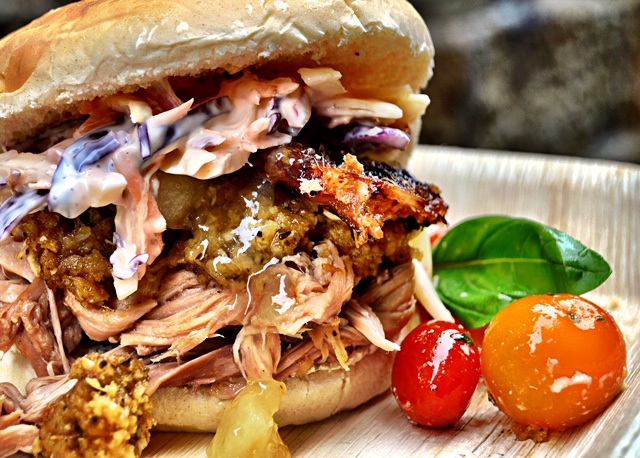 On the day of the party, the Hog Roast Medstead team arrived in advance of the 8:00pm serving time, giving ourselves plenty of time to prepare and cook the menu. We began by roasting the hog, which needed approximately 5 hours to cook to perfection, before being expertly carved. The meat was served in fresh bread rolls, with gluten-free rolls available upon request. For meat-free guests, we also served vegetable and halloumi skewers, which are tasty and nutritious. The mains were accompanied by homemade chips and seasonal salad dishes to create a delicious and well-rounded meal. Our catering was a wonderful addition to the event and there was plenty for everyone to enjoy!
Whatever style of catering you require, Hog Roast Medstead has a menu that is perfect for you. With over 7 different menus and a selection of catering styles to choose from, there is bound to be something that is just right. To find out more, simply let us know your party size, date, and location and we can do the rest.