As if planning a wedding wasn't stressful enough, now in addition to finding the perfect venue, hunting down the bride's dream dress and acquiring a reliable catering service, (to name but a few!) couples have to think about maintaining social distancing measures and adhering to the ever-evolving lockdown restrictions. So, for many, postponing their big day might seem like the only viable option. But what if we told you that Hog Roast Hythe could rid you of not one, but two of these problems?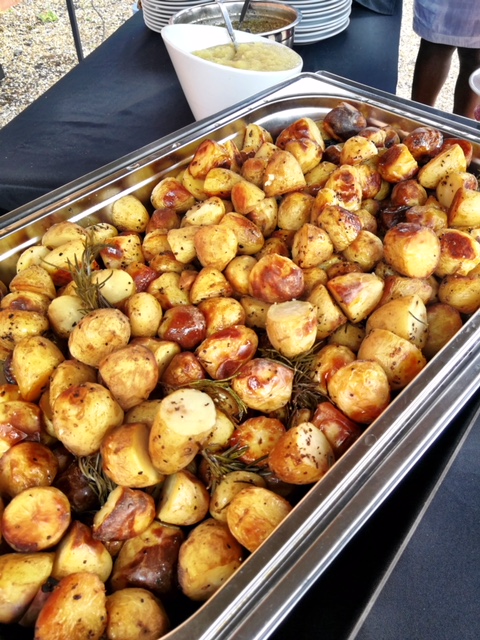 For over 25 years, our catering crews have been dishing up our irresistible spit roasted menus to clients up and down the country, and their hard work has earned Hog Roast Hythe the reputation for being the best in our field. Even now, during these difficult times, we have been going above and beyond to support our local community by adjusting our service to include lockdown-appropriate responses which are helping to keep our customers and our staff safe. These include the temporary removal of the buffet service, the addition of the sanitation station and, of course, full PPE for our catering teams.
As a result, we have been able to continue doing what we love, and one pair that couldn't have been happier with the service they received from us was Tommy and Christine! Before discovering Hog Roast Hythe, this loved-up couple was sure they were going to have to postpone or even cancel their big day after their catering plans fell through at the last minute! But fortunately for them, our team had come to their rescue at the perfect time.
With less than a few weeks to go before their wedding day, Tommy and Christine had reached out to our customer service team who had managed to squeeze them into our diary, and to the client's relief, the timing fit flawlessly with their wedding plans.
The wedding took place last weekend, and just as the couple had hoped, Hog Roast Hythe brought everyone together with our mouth-watering menu which included BBQ pork butt, Texan 24 hour beef brisket and Cajun spiced whole roast chickens among a selection of tantalising American-inspired side dishes!