The Christmas countdown has officially begun, and Hog Roast Bordon are already being inundated with Christmas requests. We offer an extensive Christmas party menu that includes all the traditional festive foods you could imagine plus many of your Hog Roast Bordon favourites.
This week we were contacted by Tom who wanted to book in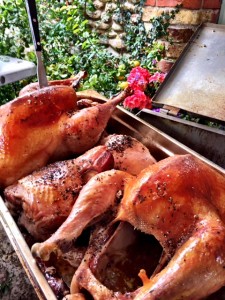 for his works Christmas party. He explained that each year different staff members were responsible for organising different aspects of the party such as decorations, venue, transport and the catering. This year he had pulled what he thought was the short straw by having to organise catering for one hundred staff members but when he realised that we at Hog Roast Bordon could do all the hard work for him in terms of planning a menu and delivering the food he realised he had actually got the best deal.
Tom mentioned that they were on a strict budget this year after having such an extravagant party the year before, but they still wanted something special. We assured him that at Hog Roast Bordon we are all about providing the best quality food for your money and our roasts don't break the bank. We agreed on the traditional Christmas menu of whole roasted turkeys served with goose fat fluffy roasted potatoes and lots of seasonal vegetables. We also make a delicious gravy that perfectly accompanies the meat and served it with our chefs' homemade cranberry sauce that guests adore. Tom was more than happy with the menu and asked if we could provide a desert option too which we were pleased to provide in the form of one of our delicious Christmas puddings and brandy sauce.
With everything planned Tom could now relax as that was a load of his shoulders and we assured him it would be a Christmas party to remember!