The Hog Roast Petersfield team got the opportunity to demonstrate our versatility recently when we were asked to provide one of our increasingly popular corporate menus for a company event hosted by a local logistics company. Their annual company-wide event brings together all the different departments of the company, from the drivers and warehouse staff to the office personnel and management team. They needed a menu that was as diverse as their workforce and they decided that Hog Roast Petersfield fitted the bill!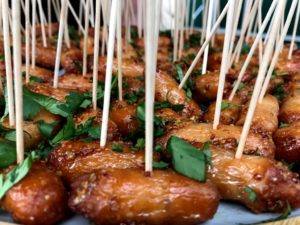 They chose one of our varied corporate buffets with a canape welcome reception, for a touch of finesses whilst still creating a relaxed atmosphere that allowed colleagues whose paths rarely crossed to mingle and get to know each other a bit better.
For the canape welcome reception, they chose a tempting range of different traditional and more exotic flavour combinations, including mini Yorkshire puddings with roast beef, tiger prawns with zesty lemon mayonnaise, mini feta skewers, and gourmet sausages with a mustard dip. For the buffet style main, they decided one of our classic hog roasts was an absolute must, which they wanted to be served with Waldorf, crispy Thai and fresh green leaf salads. It was indeed a varied feast for a diverse workforce, and we couldn't wait to get started!
Even if we are preparing a complex menu with lots of different elements, we always make everything from scratch on the day using the best local produce available, including our individually handmade canapes, which certainly impressed the event organisers who watched us work tirelessly throughout the day to bring all the aspects of their chosen menu together!
The company event was a great success from the outset, with everyone loving the canapes and enjoying chatting to each other whilst our sociable catering assistants helped our diners out with their selections from the buffet table. A great time and great food was had by all and here at Hog Roast Petersfield we're so pleased we were able to offer the company such an ideal menu for their event that everyone enjoyed so much!