Despite the name, Hog Roast Hampshire are extremely diverse caterers. We are of course experts in the realm of hog roast catering but in addition to this, we are able to cook a wide range of menus. For instance, if you want a different type of meat, we can slow roast chickens, beef and lamb on our machines giving the meat that delicious Hog Roast Hampshire taste that comes with slow roasting the meat for several hours until it simply falls off the bone due to being so tender.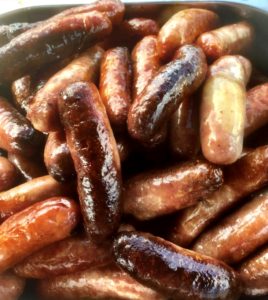 Not only this, but our Hog Roast Hampshire machines are so diverse these days that we have designed a whole range of attachments that really transform the way our chefs are able to cook on them. Dual roasting trays double the capacity of the machines whilst spit roast attachments add spectacle to any meal. Finally, we have our  BBQ attachments which create the most brilliant of BBQs.
With the definite start of spring this month, Hog Roast Hampshire are already becoming inundated with requests for garden parties and BBQs. In fact, just last weekend we catered one of the first BBQs of the year for Georgia and Jamie.
The couple had decided to make the most of the good spring weather and had invited their family over for a BBQ. The only problem was they didn't actually own a BBQ themselves and so had enlisted the help of Hog Roast Hampshire!
We arrived at the couple's home early afternoon to get everything set up and prepare for a serve time of 5 pm. Whenever possible we always use locally sourced produce from our suppliers who are other local business like ours. On this BBQ menu, we had butcher's selection burgers and sage and onion sausages that had all been freshly made on the day. In addition to this, we were serving up some grilled corn on the cob, vibrant salads and of course some salted wedges to keep everyone happy.
What a lovely BBQ, Hog Roast Hampshire can't wait to cater many more in the weeks to come!