Recently, the Hog Roast Fareham team were hired to provide the catering at a beautiful wedding. The wedding was for local clients, Roxie and Luke, who wanted everything to be perfect for their big day. They were hosting the event at the Wickham Community Centre in Fareham which looked fantastic for the occasion.
The couple selected Menu Four from the selection of wedding menus offered by the team. The service began with a round of canapes and a selection of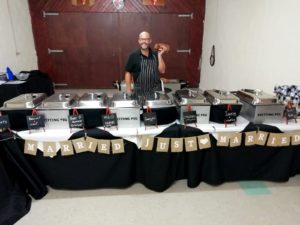 starters. The team's main course featured a traditional slow roasted hog which was seasoned perfectly by the Hog Roast Fareham team's head chefs. The whole hog was placed on the buffet as the centrepiece and served alongside a selection of sauces, fresh bread rolls and wraps. In addition, the delicious hog meat was served with crispy crackling, homemade stuffing and classic apple sauce. The hog was roasted in one of the Hog Roast Fareham team's Hog Master machines which ensures that all of the meat is evenly cooked. In addition to the whole roasted hog, local free range spit roasted chickens were served with chipolata sausage, stuffing and homemade onion gravy. Alongside the meats, a selection of vegetables and roast potatoes. In addition, Roxie and Luke requested for chips to be added to their menus.
The buffet was to be served to fifty people, all of which were satisfied by the quality of the food presented by the Hog Roast Fareham team. The service was led by the Hog Roast team's Head Chefs, Martin and Jane. The food presented beautifully on the buffet and the meat was kept warm in professional heated trays. The soft bread rolls and wraps were presented in a luxury fashion in wicker baskets on the wicker tables. The couple was very happy with the service the Hog Roast Fareham team provided and were pleased with the team's food. In addition, the team were really friendly and served the food efficiently to the guests. The Hog Roast team's buffet put the cherry on top for Roxie and Luke's wedding and the team were really pleased with the service they provided.