Recently, the Hog Roast Fordingbridge team were hired by Dan for his event. He was hosting his event at Housemasters House in Bruton, Somerset, a great setting. The food was to be served in the traditional hog roast team way as a buffet so that the guests could serve themselves. All of the food was cooked and prepared on site to ensure that everything tasted fantastically fresh. The client requested some variations to the menu to suit his guests such as free-from foods to ensure that everyone could enjoy the buffet.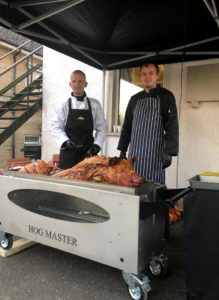 The menu served was a classic hog roast with the hog meat served as the centerpiece on the buffet table after being cooked in one of the team's Hog Master machines. The hog was served on the buffet alongside the traditional sides of apple sauce, crispy crackling and homemade stuffing. In addition, the team also served the meat with baskets of bread rolls which had been replaced with gluten free bread rolls for this particular service with enough for one per pupil, which were also served with a selection of sauces. The Hog Roast Fordingbridge team served the food from 7 pm onwards and so it was important that all of the food was ready at the same time to deliver on the buffet table. Furthermore, the guests really enjoyed the food and buffet went down really well with everyone that attending the event.
The buffet was served to sixty people and the Hog Roast Fordingbridge team made sure that each and every guests received a fantastic plate of food. The team was led by Raffa, the team's Catering Manager, who did a great job of overseeing the service. The client, Dan, was really pleased with the Hog Roast Fordingbridge team's service and contacted the team specially after the event to thank them for their fantastic efforts. Dan expressed that he was really impressed by how Raffa handled his team and thought that the overall service was outstanding, In addition, the client was very pleased with the communication of the team as it led to a really smooth service.