There was once a time when hog roasts were more commonly reserved for weddings, birthdays and christenings; but we're happy to say that there seems to have been a shift in attitude in recent years which has seen our team cater for all sorts of different events. One of the most recent bookings Hog Roast Goodworth Clatford received was for a hog roast and stand-up comedy night – after all, who doesn't love dinner and a show?!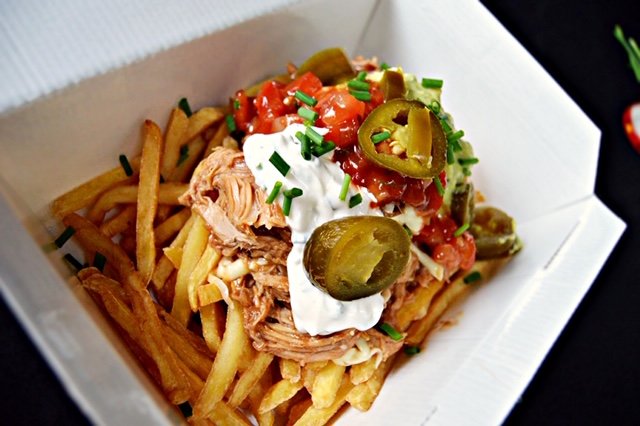 Since one of the main concerns we face as a catering service is to make everyone feel looked after, we also provide a range of vegetarian, vegan and gluten-free alternatives to our signature meat dishes, which the majority of our clients take full advantage of.  This occasion was no different, and with close to 100 people having purchased tickets for the event, the client was keen for us to serve a feast that could be enjoyed by everyone, including those with different dietary requirements and food intolerances.
After spending some time going over our expansive menu options with the Hog Roast Goodworth Clatford catering manager, the client opted for our classic hog roast menu with a handful of side options and the inclusion of mushroom and haloumi burgers and grilled veggie skewers with flatbreads and tzatziki dip for those following meat-free diets. The client was impressed by how quickly the booking was processed and as usual, the day of the event saw our team arrive hours early to prepare the buffet.
Before the first comedian took to the stage, Hog Roast Goodworth Clatford carved up the crispy golden pig, revealing a juicy interior which they transformed into delicious pulled pork and served with stuffing, crackling and applesauce. Along with the mains, the team served a trio of freshly tossed salads and fries smothered in jalapenos, zesty slaw and melted cheese which the arriving guests eagerly piled onto their plates.
We're pleased to say that the event was a huge success, and with more than enough food available for everyone, the guests used the time between the comedic acts to return to the buffet table where they indulged in extra helpings of the delicious food.