Hog Roast Four Marks is known all over the UK as caterers of delicious food made from fresh, local ingredients. While you'll know as locally, we are also often asked to cater further afield, either as a personal request by a customer or to cover for another franchise. Regardless of where we cater for your party or event, you'll always be sure of excellent service as well as gorgeous food, and from start to finish, our professionals always go the extra mile to see that your wants and needs are met and that your expectations are exceeded.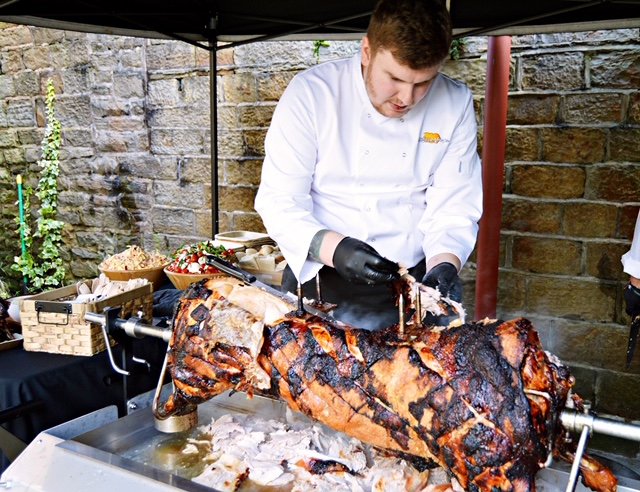 When it comes to providing plenty of choice and variety, Hog Roast Four Marks is number one, as we've spent a long time perfecting our various menus. We don't just cook top-quality hog roasts; though our signature food is something special, as a hog roast centrepiece goes a long way to feed your guests and not only tastes amazing but looks and smells amazing too, we also know that you may need additional or alternative options served – or even both. From spit-roasted to barbecued or marinated meats, we have something to please the personal tastes of all carnivores, but we also have lots of options for non-meat eaters too, like veggie kebabs, stuffed mushrooms and quiches, and we can always cater for special diets when you let us know in advance.
Greg contacted Hog Roast Four Marks a few weeks ago, as he was thinking of having us cater with piles of our succulent pigs in buns – where we cram freshly-cooked meat and crackling into soft, floury bread rolls and wraps and add dollops of our homemade sage and onion stuffing and apple sauce. However, he also needed a vegetarian dish served too, and decided on two sides instead of an extra main, which everyone could enjoy – mac and cheese and sweet potato wedges.
On the day of Greg's party, held at his home in the back garden, our chef and catering assistant cooked a pig for hours on end until it was perfectly moist inside and crispy on the outside, and later in the day freshly made and cooked spicy wedges and creamy mac and cheese, and by 6pm, his guests arrived to some seriously tasty grub.