For many couples, getting engaged is an exciting step toward affirming their love for one another, but unfortunately, wedding planning isn't always as blissful as Hollywood blockbusters would lead us to believe! At Hog Roast Petworth, we understand that instead of being a joyous activity, organising the biggest day of your life can be more than a little bit daunting; but with the help of our team of high calibre catering staff (think of the A-Team but with kitchen utensils) who not only have several decades worth of experience under their aprons but can also turn their chefs hats to anything, you can rest assured that your special day is always in safe hands when we're in charge.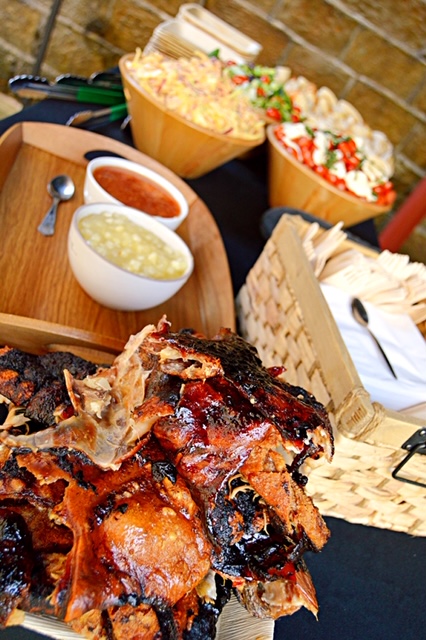 Over the weekend, Hog Roast Petworth travelled off the beaten track to a newly renovated barn where they helped Adam and Maisie celebrate their love for one another in an intimate ceremony which had attracted 60 of their closest friends and family members. Having been briefed by the loved-up couple ahead of their special day, the catering crew made sure to arrive at the venue hours ahead of the serving time, which allowed them the opportunity to decorate the rustic building with twinkling fairy lights, leafy garlands and set the tables with minimalist centrepieces before getting started on the meal.
Using our innovative cooking equipment, the Hog Roast Petworth team began the process of preparing the mouth-watering feast. Starting with the whole pig, which they rubbed down with salt and evenly scored before nestling it among our famous savoury stuffing, they worked tirelessly to bring our hog roast dining menu to life. To accompany the meat, they also whipped up a selection of freshly-tossed salads and a creamy coleslaw option, along with a vegetarian and vegan-friendly alternative of grilled veggie skewers with flatbreads and tzatziki dip.
The arriving guests were in awe of the crispy-skinned, golden hog which made for a striking scene – and newlyweds, Adam and Maisie could barely believe their eyes! As the remaining members of the wedding party arrived to kick off the reception bash, everyone began stuffing their faces with the mouth-watering grub which they couldn't stop talking about for the rest of the evening.