This weekend Hog Roast Fordingbridge had the absolute pleasure of catering at Lucy and Jay's engagement party. Having been together since high school, Jay had finally popped the question a couple of weeks ago after plucking up the courage and asking Lucy whilst they were away on holiday. Now they were back from their holiday, both of their parents had decided to throw an engagement party so that everyone could get together and congratulate them as well as start to put things in motion for the wedding planning.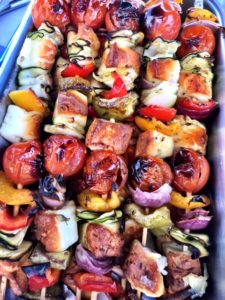 Hog Roast Fordingbridge had been enlisted thanks to Jay's mum, Heather, who had sampled our food at an event we catered for one of her friends. She told us over the phone that if we managed to impress Jay and Lucy there was a chance, they might invite us to cater at the wedding too, so we knew we had to be on top form!
We planned a menu of traditional slow roasted hog that we would roast low and slow for several hours before the guests arrived. To accompany the meat, we prepared some seasonal roasted vegetables, halloumi skewers and corn on the cob. Our Hog Roast Fordingbridge chef also brought along a vegan and vegetarian tart he had handmade himself as there were a couple of vegan guests, so we wanted to make sure there was something for them to enjoy too.
As the guests mingled and enjoyed a glass of wine or two our Hog Roast Fordingbridge food steadily disappeared. It was no surprise to us when Lucy approached us and enquired about our wedding catering menus. It's always such a compliment when we are asked back to cater for someone after doing a job well done. After discreetly packing away it was back to HQ to get started with the wedding planning!