March is finally here which means we are well and truly into spring and out of the cold winter months… well in theory anyway! This week Hog Roast Fleet were asked to cater at Jim's 60th birthday celebrations at his home in Fleet and we all had our fingers crossed for at least a few rays of sunshine to see us through.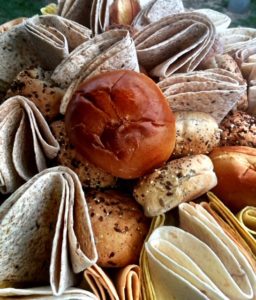 We arrived bright and early, as we always do, at Jim's home to get started cooking our Hog Roast Fleet birthday feast. Jim and his lovely wife of thirty years, Sue, had been planning on having a garden party. They realised they had been a little too optimistic with the weather when it started to pour it down just as we arrived. Sue was about to call her guests to cancel and rearrange for another day, but we reassured her that Hog Roast Fleet can cater in any and all weather conditions and that the birthday Hog Roast Fleet could still go ahead!
We set up our gazebo in the couple's garden, luckily, we always bring the gazebo to events no matter the weather forecast as we don't want to let any mishaps stop us from being able to cater at your event. In no time we had our whole hog roasting away and the fantastic aromas were actually enhanced by the rain as our machine smoked away. The accompaniments to the hog for this event were some seasonal roasted vegetables, corn on the cobb and a selection of salads so that there would be something for everyone's tastes.
Amazingly as the first guests arrived the sky managed to clear up and come serve time everyone was able to comfortably stay outside and enjoy our Hog Roast Fleet feast. We wished Jim a happy birthday and made sure we left him lots of hog roast leftovers to enjoy in the days to follow…