Hog Roast Chidham is often asked to cater events and parties in and around Chichester, as well as further afield, as we actually have franchises all over the country. We recently heard from Ellen, who wanted our Private Party Menu 1 of our tasty hog roast rolls served at her home in Bosham, which is a picturesque coastal village and civil parish in Chichester. We learned on this day that Bosham is actually pronounced Bozzum, the village features on the Bayeux Tapestry and King Canute's daughter is buried at Bosham Church in a Saxon coffin. It turns out this pretty, unassuming village has a truly fascinating history!
To cook Ellen and her 50 guests our hog roast rolls (which we named pigs in buns), we roast the pig on-site ever so slowly for several hours until perfectly browned on the outside and nice and soft and tender on the inside. Nearer to the time of service, we slice fresh bread rolls, though we can also provide wraps as well, and then stuff them full of hot pork, salty crackling, apple sauce and stuffing and leave you to decide if you want to finish it off with one of our condiments, too. We make our own apple sauce and sage and onion stuffing, as we prefer to make our own food wherever possible, as we're passionate about quality and freshness.
If you have any guests with dietary needs, Hog Roast Chidham can easily cater for them with homemade options too, such as vegetarian Spanish quiche or freshly-stuffed peppers. Plus if any of your guests have a gluten intolerance or allergy, they don't have to miss out on our pigs in buns, as by us ensuring they have gluten-free bread rolls available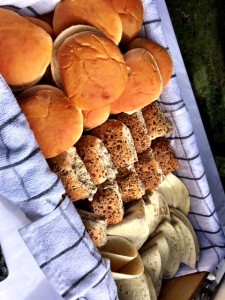 means they can still eat them just like everyone else, as all the other ingredients are already suitable.
On the day of Ellen's party, Hog Roast Chidham set up our equipment up in the lovely, huge garden and roasted the centrepiece hog for a good few hours. By the evening, when the meat was resting, our waiting staff were already serving drinks and our chef was getting ready to serve up some homemade goodness.