At Hog Roast Clanfield, we specialize in the very best quality of food, whatever the request, from a slow roasted pig to the gourmet salads, we always make it to the highest standard. We were contacted by Valerie, who was hosting a private event, to cater for her 30 guests. With vast collection of food we put on offer, and all looking sensationally tasty, Valarie found it difficult to make a decision. So, we made a few suggestions to her and she was delighted with how helpful we were, and extremely excited to try the buffet we thought would more than compliment her event.
We got to the venue 6 hours before everything would take light, Tod the chef, Irene the server and myself to assist; all fully prepared and ready to start setting up. The event was in a hotel, the party held in a private room which was only open for people booking these types of events. We were appointed one of the corners to set up, and so we began, having lots of time to spare.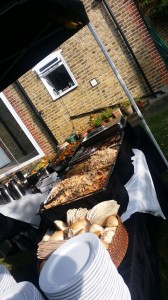 The order was a slow roasted pig with apple sauce and stuffing, crackling, soft fluffy rolls and our best gourmet salads. A perfect buffet for this occasion. When we had finished setting up, Valerie arrived in time to greet her guests, she was instantly drawn to the array of colours that spread across the buffet, tasteful smells smothered the air, and as more guests started to arrive, they were blown away by the sweet smelling and delicious looking food we had to offer.
After Valerie had a great deal to eat, she told us that she would highly recommend Hog Roast Clanfield to all her friends and anyone she knows who's looking for top quality food and services. Everyone thoroughly enjoyed indulging into the buffet, some people saying that it was "sensationally good" and "so flavoursome and juicy." They couldn't get enough, and by the time it was ready to clean up and pack away, all the food had been devoured, meaning another successful day for Hog Roast Clanfield.