Christmas is around the corner, and we've already started offering our festive menu. If you're making plans for a party for a special occasion or for a corporate event, how about letting us serve you and your guests traditional food with a bit of a twist – a Christmas hog roast Sparsholt! You'll enjoy a quality, locally-sourced turkey, which we cook in front of you, and all the usual trimmings you'd usually have, or you can even choose a different kind of meat if you prefer.
Our friendly, professional team members are a big part of our recipe for Christmas success, as they will bring along plenty of delicious food to your chosen venue to cook from scratch and will help to create a great atmosphere. With hot, mulled wine and lovely, homemade mince pies, why not treat yourself and your family, friends or staff to something they will never forget.
One of our customers, Gail, owns a small, local bakery and she wanted to treat her hard-working employees to a festive party featuring our scrumptious Christmas menu. We went along to the workplace and set up our gazebo, serving station and hog roasting machine, which has attachments so that we can use it to spit-roast, too. It takes a few short hours to roast a large, whole turkey, so we cracked on with that and kept an eye on the bird as it cooked.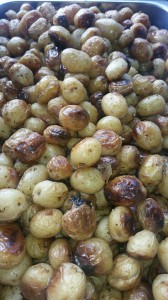 The trimmings for this menu include seasonal sage and onion stuffing, cranberry sauce, roast potatoes and our homemade onion gravy. After the turkey was already dizzy with turning over and over for some time, we prepared the roast potatoes and put those in a tray in the hog roast Sparsholt machine. Our machines are so multifaceted that we can use them to cook meat, veg, and potatoes all at the same time!
As the turkey turns, it self-bastes, and once it had roasted perfectly, this beauty didn't disappoint with its incredibly moist meat. Gail surprised her staff with a well-earned break, and they queued up to enjoy Christmas turkey and all the festive trimmings and some warming mulled wine to comfort them from the chilly air. A lovely day for hog roast Sparsholt to get us in the festive mood!